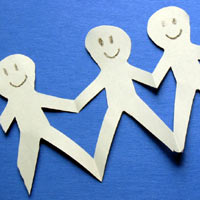 Last week, Russell Simmons calld for the censorship of three controversial
words -
bitch, ho and nigger.
I have to admit that I was left with mixed feelings regarding the censorship of these three words, but on this subject I have only one personal opinion. I don't like those three words, necessarily and I don't use those three words (not that I haven't ever) but come on! Do we really want to say that, from here on it is never ever O.K. to use them?
In my opinion:
Censorship is a very dangerous game to play.
Censorship is the beginning of the loss of other fundamental freedoms and it threatens to compromise the creative process, the thought of which should scare us all.
This past week, I think that a bigger opportunity was missed:
The opportunity, while the whole world was listening, was to extend an invitation to people, to search their own conscience about the use of, not only those three words, but of words –
period.
The opportunity was missed to offer up that particular challenge. I don't know about you, but I don't want anybody telling me what I can or can not say and so I wouldn't presume to do that to anybody else. I also have a great deal of respect for words and so I make it a practice to choose my words with wisdom.
So, I say –
Let each man search his own conscience. Let each man decide for himself, what the legacy of words is that he wants to leave behind.
Imagine.
What if people were more thoughtful about the consequences of what comes out of their mouths, beyond what works for just them and their's? What if we all accepted a personal responsibility for the words we use to speak and sing and protest — in public? What if the general consensus was that we should all continue to enjoy the freedom of being able to THINK (for ourselves) and then talk?
Words are powerful and as such we should handle them with care and that includes -
NOT DEMANDING that people stop using any three of them…
no matter how honorable our intentions might be.