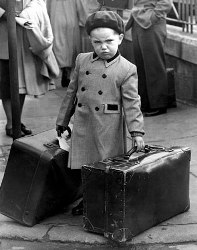 When I was growing up, there were few things better than summer fruit!
During the winter it was mostly apples, bananas and oranges, which were eaten more out of obligation than anything else. I came to think of those three piece of fruit as undesirable because they were always just sitting there so available.
But –
with the warm weather came the promise of strawberries, blueberries, raspberries and watermelon — sweet and juicy and deliciously uncommon! We never took, what we thought of as summer fruit, for granted. We savored every bite.
And so,
One of the things that I enjoy most about moving to New York was the fact that there are fresh fruit stands in every neighborhood and that means that you can get "summer fruit" all year round.
I fell in love with one fruit stand in particular because it was no frills, no nonsense, in the neighborhood, really cheap and the fruit was always sweet.
Winter, spring, summer or fall, stopping at that particular fruit stand would still be part of my daily routine except for the fact that, what used to be my favorite fruit stand is now a –
Bank of America.