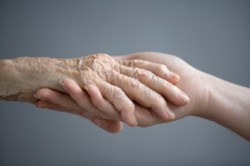 I read a story recently about a dying grandmother in Tacoma, Washington who was at the bottom of an organ donor list, hoping for a kidney while clinging to the possibility that she might get to watch her grandkids grow up.
Fully aware that she was running out of time, she asked God to send her an angel and on her next visit to the neighborhood Starbuck's where she goes first thing every morning rain or shine, she was asked by the manager why she was not her usual cheerful self. She broke down and shared about the crisis that had her straddling the fence between long life and certain death and the manager responded by offering to get tested to find out if her kidneys might be a match. If she might be a match. They were. She was. And, after talking it over with her family and friends she gave that grandmother one of her kidneys and as a result, she saved her life.
I remain in awe of the kind of human being that would reach out and sacrifice so profoundly for a relative stranger. I have searched my own soul to verify whether or not I could ever be such a human being as this and I can not say, beyond a shadow of a doubt, whether or not I could. I hope that I could and yet I struggle and -
I remain in awe.
What a nice reminder, though, that sometimes prayers get answered and that sometimes angels just show up when and where we least expect them. Maybe I won't be asked to give a kidney but perhaps I could be the answer to someone else's prayer or perhaps still I'll be touched by an angel too. The opportunity cuts both ways.
On any given day each one of us will have. And, we will all have days when we have not; days when we are in profound need of. I believe that we enrich our very existence when we not only seize the opportunity to mercifully give when we do have, but when we open ourselves up to the possibility of humbling ourselves to –
graciously receive from others when we don't.