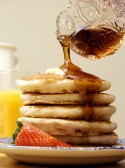 Recently, we went to visit a friend of ours who has a house on the lake in Connecticut.
Early Saturday morning we go to Bantam Bakery. Oh my goodness — LITERALLY. All of the fresh bread and rolls and muffins are still hot. We get a cranberry, walnut and raisin loaf, some portabella mushroom, ricotta cheese and spinach epinadas and –
DIRT BAGS!
O.K.?
We get these muffins that are so fluffy and fresh, dipped in butter while still hot and then rolled in cinnamon and nutmeg:
DIRT BAGS.
I feel self conscious asking the owner for 3 "DIRT BAGS" but I manage to get through it nonetheless. After saying it a few times it startes to get fun so Auguste and I and Gussie and our friend keep finidng different excuses to say:
"DIRT BAG".
When we:
1) call the dog
2) hear some disturbing news on the radio
3) someone is driving too slow
Later on that day, we drive to Great Barrington in the Berkshires and we have lunch at a cute little restaurant called Ruby's. We find a spot at a table outside in the sun. As we are halfway through our Pepper Hot Cubana sandwiches, a couple, 40ish, grab the table next to us. They are with her parents and her brother and their dog.
Anyhoo, everytime the husband speaks to the wife –EVERYTIME — he calls her some name like, oh:
1) "sweetie"
2) "honey"
3) "babe"
Hey! We do that, too — a lot of couples do. But then he started addressing her as:
1) "lovely"
2) "gorgeous"
3) "adorable"
The final straw for me was:
the wife has gotten up to go inside to use the ladies room. When she comes back outside to join her family, the husband yells across everyone's table
"Hi Cutie!".
I notice Auguste notice me, noticing this. We know what has to be done. We both kind of smirk and roll our eyes in amusement and then Auguste affectionately evened the score by calling me his:
Yep –
"DIRT BAG".
11 Comments
Dana your blog is just brilliant. the stories are so human, so real. This is just terrific.

Comment by Diane Lenz — 7/19/2005 @ 12:33 AM
RSS feed for comments on this post.
Sorry, the comment form is closed at this time.