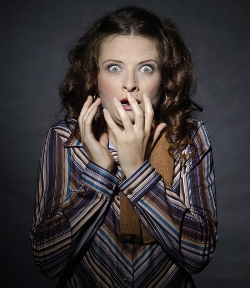 Something happened yesterday that reminded me of one of my recent most embarassing moments.
I was back in my hometown, Madison Wisconsin, for a summer visit.
Auguste and I and Gussie were eating ice cream and walking through downtown with my Aunt Emma. We were laughing and talking as we passed two guys on either side of us. They were each shaking a cup and begging for change.
As I passed the guy on the left we locked eyes. We stood staring at each other for about a second and then he said:
"Dana?"
I said:
"Todd?"
We recognized each other as old childhood playgorund buddies. Then, as if on automatic pilot, I said:
"How's it going?"
Why did I say that? I mean, I heard the question in my head just before I was about to utter the words but it was too late. I couldn't shut up in time. That's what I get for asking the standard, old standby question that we always ask people but we never really want to know the real answer to. Anyway, talk about your awkward moment!
But then, as if things weren't bad enough, as he and I struggled to try and salvage our reunion moment with some more of those automatic social niceties like –
"How's your mother?"
(I asked that question just before I remembered she had died),
my Aunt Emma did the only thing that would be more awkward than the questions I had asked:
SHE NERVOUSLY RUNS (AND I MEAN RUNS) UP TO HIM OUT OF NOWHERE AND SHOVES A DOLLAR IN TO HIS CUP AND THEN RUNS BACK TO WHERE SHE HAD BEEN STANDING BEFORE.
That's about when we all simultaneously decided that we were done catching up.
44 Comments
That's Emma! She kept me in stiches in our childhood. She's the female equivalent of the straight man, only she was a little girl.
RDM

Comment by Ralph — 8/18/2005 @ 8:56 PM
RSS feed for comments on this post.
Sorry, the comment form is closed at this time.