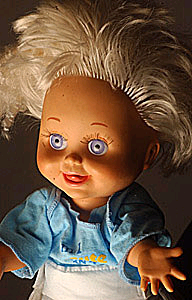 The first good bye is always just the dry run.
I have learned this through experience.
It's eight o'clock. Eight o'clock means that it's time to go.
Lunch ~ check. Homework ~ check. Violin ~ check. Misc. notes giving permission for whatever it is ~ check. Lip gloss, chewing gum ~ check check.
And,
she's out the door, Four… Three… Two… One… and…
she's back! (because the first goodbye, I told you, is just a dry run).
She comes running back in for —
What is it today?:
A red spot on the green khaki skirt!
Quick sprint to the bathroom! Quick!
In one move I've got a damp cloth in my hand and in three quick moves, that stain is gone! And, she's out the doooooooooor…. Yes!!!
We have lift off!
This daily routine is but one of the very many reasons that, when she finally walks up to the podium to accept her award, I expect, not a mere mention with a sweet little tear, but rather I am demanding –
an entire PARADE!
2 Comments
RSS feed for comments on this post.
Sorry, the comment form is closed at this time.