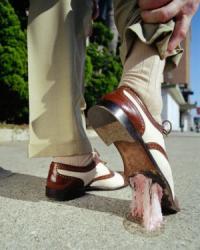 One of my favorite places in the world is Jack's Coffee.
Jack's is a neighborhood cafe — ya know one of those where-everybody-knows-your-name kind of places. You are always guranteed to meet up with a neighbor or a friend. In fact everybody's friends –
at Jack's.
And speaking of friends, on a recent visit I walked in and spotted my friend Sandy.
- He is an older man, just shy of being elderly.
- He lives in the West Village just across the street from Jack's.
- He has lived there for over 30 years.
- He has a home in South Florida where he spends about 3-4 months out of the year.
- He really loves it down there.
- He has a son who he is very close to.
I enjoy talking to Sandy when I see him but today, he is going as I am coming:
Me (kinda trying to be neighborly): Hi Sandy!
Him (waving graciously): How are ya?
Me (trying to respect my elder, just shy of condescending): Good, good. Hey listen, not that this is keeping you up nights or anything but, I didn't forget to add you to my subscriber list. I just wanted to wait until I launched the new site.
Him (a bit thrown off guard): Oh O.K. (pause) What was that for again?
Me (laughing): You know my weekly Ezine. I publish it once a week. It-goes-out-every-Monday Ezine. member?
Him (pretending to remember): Oh yeah. Well I won't "wait on pins and needles", whatever that means.
Me (a little deflated but trying to force a laugh): Yeh. "Waiting on pins and needles" (laugh). Who makes this stuff up anyway?
Him (chuckle): Yeh.
Me (ready to end this conversation so I can move on to my mocha): O.K. then. Well alrighty. Have a great week. See ya soon. Bye.
Him (turning back as he reaches the door): What did you say that your name was again?
Me (no longer trying to save face): Exactly.
Auguste (observing this whole thing from a table across the room): So much for the "where everybody knows your name" thing, I guess.
Yep. So much for that –
No Comments
No comments yet.
RSS feed for comments on this post.
Sorry, the comment form is closed at this time.