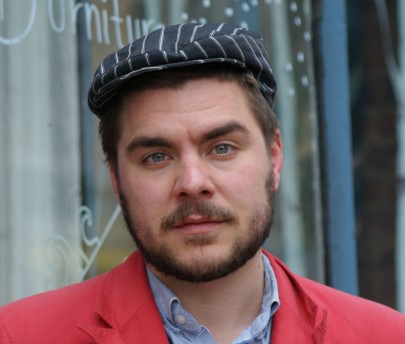 Name:
Johnny Sagan a.k.a. Snowy Wilderness
The reason for the "a.k.a. Snowy Wilderness" is that the ultimate idea for the name came from an alter ego character whose actually on the alter ego pocket square in the window.  "Snowy Wilderness".  A simultaneouly rugged and refined mythomane;  a men's fashion plate dandy-ish sort of fellow who was my alter ego for some years.
Age:
I am 30 years old.  I will be turning 31 on May 18, – 2011 the 31st anniversary of the eruption of Mount St. Helen's.
Where are you from:
I like to just say I come from the North.  My life story spans Green Bay, Wisconsin, Blind River, Ontario, Madison, Wisconsin, Park Slope, Brooklyn , Evanston, Illinois a.k.a. Heaven-ston (Heaven-ston is our Yale).  And then I went to college at The London School of Economics in London England and now, like a salmon returning to the pool where it was spawned, I have returned to Park Slope, Brooklyn…(I actually live in Crown Heights.  I'm about to move to Flatbush,  my ultimate place of power that perfectly balances man and nature on the planet.  Culture and commerce.  Snowy Wilderness.
Where do you live:
I live in Crown Heights on President Street.  I am getting ready, on June 1st in Sha la la (word to the house of knowledge), to move to Hawthorne Street in Flatbush between Flatbush and Bedford with my lovely girlfriend Emma Zurer, Brooklyn's Lady Liberty.  Shout out to her…
Occupation:
Fundamentally I am a writer and my number one back up make-money-to-pay-the-rent-job is freelance transcribing for a number of academic institutes in New York City, chief among them The Social Science Research Counsel.  I am also a Fashion Designer and Gallerist with Snowy Wilderness.
My word of inspiration to all of the young people flocking to Brooklyn:
In the mean times, in-between times and the lean times, I do whatever it takes and work whatever job is necessary to survive in New York.
100 Years from now what do you want to be remembered for:
What I would most like to be remembered for 100 Years from now is probably being one of the people who helped the children of the Baby Boomers attain their adulthood after the ultra extended imperium of those born in the aftermath of World War II and who helped turned the tide of chaos and misery that is threatening to engulf us now.  And I'd like tp do that through such activites as running a communitarian boutique and gallery like Snowy Wilderness.
1 Comment
Glorious post, Dana! Tee hee…gotta laugh at myself, in a good way: God made me funky!

Comment by Johnny Sagan — 4/25/2011 @ 11:37 PM
RSS feed for comments on this post.
Sorry, the comment form is closed at this time.