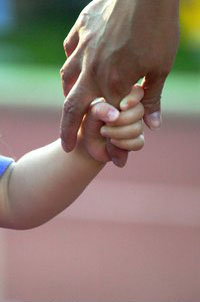 It was December of 1991, just a few days before Christmas –
when it happened.
The phone rang and I heard my mother's voice on the other end of the line. She was wailing:
"They took him Dana! They took him! Oh no, they took him!!! What are we going to do!!!? He's gone!!! They just took him!!! Oh my God!!!!"
It was the answer that we had been praying about for more than a year. It was the answer that we had hoped we would never hear:
"Guilty".
And just like that, our lives were changed.
In December of 1991 my brother-in-law was wrongly convicted of rape and robbery, because he happened to be at the wrong place, at the wrong time. He happened to be driving to work. He was subsequently sentenced to 19 years in prison. He spent five years in prison because that is how long that it took to get him out, even after DNA testing proved that he could not have committed this crime.
Imagine.
From December of 1991 to April of 1997, every Christmas, every Thanksgiving, every wedding, birth, birthday –
everyday was overshadowed by the horror that my brother-in-law, my sister's husband, my 7 year old nephew and my 2 year old niece's Dad,-
was wrongly imprisoned.
"Daddy is in prison? Why? Why is he in prison for something that he did not do?"
After Innocence is a documentary film that addresses this question. It tells –
the dramatic and compelling story of the exonerated – innocent men wrongfully imprisoned for decades and then released after DNA evidence proved their innocence. The film focuses on the gripping story of seven men and their emotional journey back into society and efforts to rebuild their lives. Included are a police officer, an army sergeant and a young father sent to prison and even death row for decades for crimes they did not commit. — www.afterinnocence.com
After Innocence is a movie that must be seen by anyone who has a compassionate heart. It is a must see for EVERYONE who values –
FREEDOM.
16 Comments
It is very sad that, in this day and age, that something like that would happen. There are those who say it is better to lock up an inocent person than to leave a guilt person free…unless you are the family member of that person. I hope that your family has been able to heal from this tragidy, I am not sure how I would feel about this situation if I were in your shoes.
RSS feed for comments on this post.
Sorry, the comment form is closed at this time.