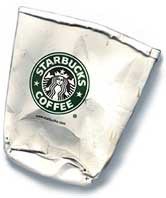 Earlier this year I unintentionally got some information about healthy eating. (Now I think I was better off living in the dark). I found out all about how bad sugar and caffeine are for you, not to mention milk. So, in a noble attempt to do the right thing, take a stand for my health and exercise a little bit of self control I swore off (oh, gosh)
My Starbucks!
While I may be eating healthier than I ever have, and while I feel better and stronger, my new healthy habit does not make room for one of my true loves –
My Starbucks!
I love you Starbucks and I miss you with all of my heart. I miss the way you used to greet me every morning. I miss waiting in that long line with all of the other addicts, paying way too much for something that is oh so very bad. I miss walking through your doors and feeling like I'm home. I miss your foamy, frothy, chocolaty taste and the way that your desserts would call to me as I would wait in line to order my Grande, Skinny Mocha, Extra Mocha –

Whip IT!
Whip it. (Can you feel my pain?)
Every time I pass you by (and you are everywhere) I pause and choke back a mocha starved tear.
I may have lost a pound or two and I'm feeling better than ever, but I vow that we will one day be together again.
Until that time, my mocha,
Farewell.
18 Comments
RSS feed for comments on this post.
Sorry, the comment form is closed at this time.