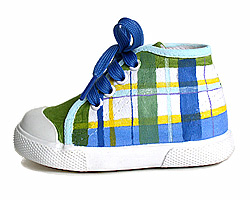 Don't say that you haven't been warned.
There is this unwritten rule that exists between parents and children. It sneaks up on you when your kids are, oh, about 9 or 10 1/2.
I had to find out the hard way:
YOU CAN NO LONGER REACH FOR THAT HAND TO HOLD.
Don't violate this one. I promise you, it won't be pretty
Once they hit "that age", and you will have no idea that they have until they freak out on you on the way to school while every parent that you want to impress is within ear shot and your kid is screaming at you about how you are embarassing them for doing something that nobody noticed until they started yelling at you that you were doing this awful thing — you will have to re train yourself to no longer reach for "your baby's" hand.
No matter busy streets.
No mater that you are running because you are late.
No matter even that you love them…
…and just want to share a little moment with them before they head off to whatever disaster that will inevitabely happen that they will be taking out on you when you arrive to pick them up, on time , while they take their sweet time.
The other day Gussie and I witnessed a Dad violate the "no Hand Holding Zone" rule while trying to cross a busy street with his son. It was painful to watch what happened next. His son really showed him and earned some respect points with the kids.
But that poor Dad. Oh well. Not to worry. I mean, he should be able to show his face around campus again sometime in April/May-ish.
201 Comments
With the nephews I follow this rule, if they reach out for the hand they get the hand hold, if they don't, I do not reach for their hand.

Too Old, Too Fast?

Although I am not a parent, I am an uncle, and I have found two exceptions around the "no hand rule"—candy and allowance money.

Trackback by Blogger Delights — 1/19/2006 @ 8:36 PM
RSS feed for comments on this post.
Sorry, the comment form is closed at this time.