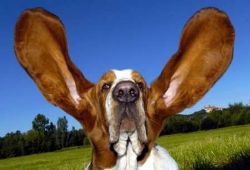 She was slightly annoyed and self-righteously indignant as she responded to my question:
"I am not an eavesdropper, Mom. I just have good ears!"
Oh, sorry. Silly me.
4 Comments
Is that your basset? I'm also a basset owner… er slave. Adorable pic, either way.

ove those ears! Can he fly?

Comment by skynewf — 1/29/2006 @ 2:05 AM
RSS feed for comments on this post.
Sorry, the comment form is closed at this time.