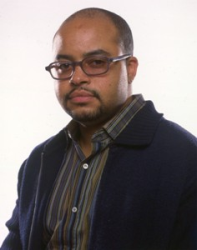 Each week I get the opportunity to interview people who are doing great things and making a difference. Check out this excerpt from my interview with an inspriational and creative force, Brett Wright.
His fifteen years of experience in the music, internet, publishing, advertising and fashion industries have established him as an innovator in delivering brands to urban culture. Mr. Wright is co-founder and CEO of the Harlem based NuAmerica Agency now in its 5th year.
Wright's positions have included serving as an original member of The Source Magazine, senior director of marketing at Uptown Records, vice president of Loud Records, vice president/general manager of Volcano Entertainment and vice president of marketing and A&R at RCA Records, president of Yo! B. Consulting and president of Hookt.com. Under Wright's marketing vision these companies established their respective marks in their respective industries:
DR: For you — success, what is that? I know it's the question that everybody throws out there.
BW: It changes. For me success is content and happiness. It's never been about money for me. When I made the most money in my life, I was the most miserable. Just 'cause I hated what I did. I hated the people that I did it for…
DR: Really?
BW: Yeah. There was a lot of resentment around working for the almighty dollar and the almighty man.
For me it's really about finding a balance between content with my family, with my spirit, with my business. I don't deal well with stress so I don't like to be in stressful situations so as much as I can, I try to control my own destiny to some extent and be in a position to just be happy with where I am and live in the moment and try to better the next moment. That's really what it is for me.
Success is:
We struggle everyday to build the business bigger and better so everyday that we get to play, is content for me.
30 Comments
No comments yet.
RSS feed for comments on this post.
Sorry, the comment form is closed at this time.