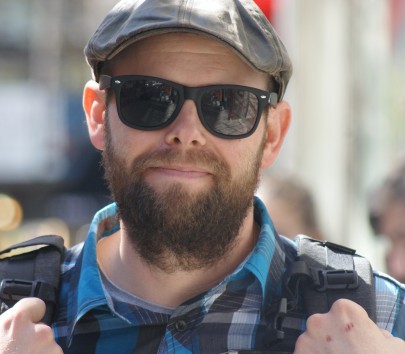 Name:
Kevin Starling
Age:
35 years old
Where are you from:
California
Occupation:
A videographer.  We do a lot of documentaries. We do weddings.  All sorts of productions.
100 Years from now what do you want to be remembered for:
I want to be remembered for having people remember their moments.  It's funny, we do a lot of commercial work.  We do a lot of things but the thing that we get the most gratification from is weddings.  The reason why is because there is only one generation where people don't remember how they met.  I mean, if you ask somebody on the street how their grandparents met they have no idea.  They have no idea where they came from and so for us to be able document those and to be able to tell stories like that, to me that's worthwhile.  I wish that I would have known how my grandparents met and how they came to America and all those things.  So, hopefully we can capture those moments.
No Comments
No comments yet.
RSS feed for comments on this post.
Sorry, the comment form is closed at this time.