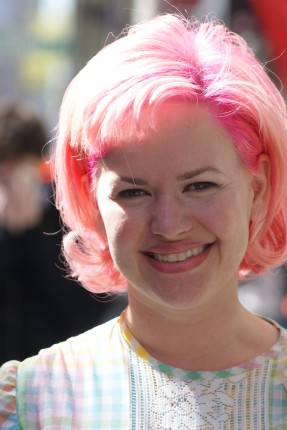 Name:
Ash Starling
Age:
30  years old
Where are you from:
California
Occupation
Videographer
100 years from now what do you want to be remembered for:
You know, less about my story necessarily.  We've had the opportunity to capture some really amazing stories.  We are actually wedding videographers.  We've been doing it for several years now, and we are just always amazed by the intimate moments that people are willing to share with us.  It's an amazing honor that they allow us into their lives to capture one of the most important moments of their lives.  The thing that really inspired us to do what we do is realizing that I had no idea how my grandparents met.  I love my grandparents and I consider myself very close to them and I have no idea how they met and they are gone now.  And, knowing that anyone on the street probably has no idea how their grandparents met and that's not okay.  For us to be able to capture that for future grandkids to know how their grandparents met and how they were in their most intimate moment is probably the most important thing.  so it's less about people remembering my story and more about me enabling future generations to see what really mattered to someone in those moments when they together as a couple.
No Comments
No comments yet.
RSS feed for comments on this post.
Sorry, the comment form is closed at this time.