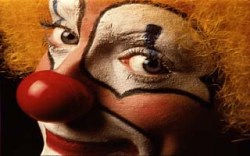 What are you looking at me for?
Lately it seems that things are even weirder on the subways in New York.
I was riding the subway this morning when I noticed a man sitting down, punching the key pad on his Blackberry. I would say that he reminded me of my frumpy-ish, squarish-ish, seemingly old-ish Junior High School history teacher, Mr. Thompson, except for one thing –
He had a blond afro with brown highlights!
And it was a nappy afro, not one of those curly, sort of made up afros. That hair did not belong on that man! It was like computer generated hair and it was all WRONG!
Here's the thing:
he kept looking across the isle at me as if we were on the same team, members of the same club, could relate to each other —
(NOT)!
He just kept looking at me like we were on the same wave-length and I didn't like it at all.
His hair makes me want to rethink a few things.
No Comments
No comments yet.
RSS feed for comments on this post.
Sorry, the comment form is closed at this time.