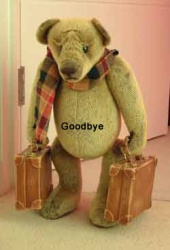 I caught him –
doing something so very uncharacteristic.
It's about 6:45 AM and as he walks by her room, he smiles nervously and gives a slight, somewhat formal nod "hello".
It's almost like flinching.
I feel that I have to mention to him that I have witnessed this moment.
"What was that all about?"
I ask.
"I know enough to steer clear of her in the morning"
he declares as if he is surprised that I even have to ask. And yes, I do know from wence he speaks.
When I re-enact for him what he has just done, we laugh until we cry.
"Ridiculous"
is what we conclude.
The nerve of her to "hold us hostage",
And —
how lame are we?
Don't mind us, we just live here.
Don't mind us, we're just responsible for your well being and the reason that you're here.
Don't mind us, we just feed and clothe you everyday
Don't mind us…
Summer camp…(Shhh…Hurray!)
11 Comments
No comments yet.
RSS feed for comments on this post.
Sorry, the comment form is closed at this time.