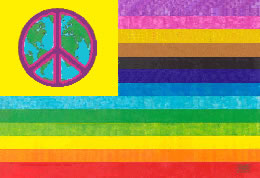 We were walking around downtown New York yesterday as the World Cup celebrations were in full force. We were right on the edge of "Little Italy", the neighborhood in New York with its roots in Italy.
Fans for the Italian team were cheering and laughing, talking to strangers and spreading good will. It was nice to watch; really nice.
Later on, as we ate dinner and watched the continued celebrations that resulted from this football victory, I wondered why we as human beings will rally around a sport and a team, quicker than we will rally around almost anything else. We allow ourselves to feel the pain of loss, experience the thrill of victory. We choose sides and then we'll fight for the side that we're on as if, what happens with the team, as if what happens on the field, has any real or meaningful impact on our lives.
With all that is going on in the world, I wonder if that energy, redirected, could make a difference toward –
WORLD PEACE…
No Comments
No comments yet.
RSS feed for comments on this post.
Sorry, the comment form is closed at this time.