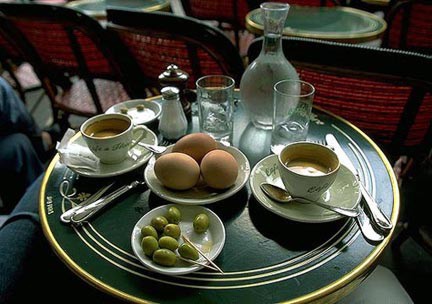 You are familiar with the Power lunch? Well, you really have not even begun to live until you have mastered the art of —
The Power Sip.
Oh Yeah! –
The Power Sip!
Here is how it goes:
1) make a date with a friend
2) clear an entire afternoon
3) order your favorite snack (the food is not the focus, although it is essential)
4) order a hot drink (you can't Power Sip on something cold. No. No.) to sip i.e coffee or tea
5) linger over your lucious cup of something hot until you can't linger a moment more.
Note: You can't Power Sip with just any ol' someone. You have to pick a super sipper. This is not for the inexperienced. Also, choose someone who vibes on your same wavelength. You know what I'm talking about! Husbands and boyfriends just won't do. And, you can not not not absolutely not Power Sip in just any ol' place. You need a quaint, chic ambience. In other words if you can't be in Paris pick a cafe that makes you feel like you're there.
Now, in a place where they don't care how long you stay, settle in and sip for as loooooong as it takes to say whatever there is to say about everything. Catch up on the events of your life while you nibble your snacks. Discuss current events while you knit pick that annoying thing that one person keeps doing that is driving you nuts! Order a piece of whatever chocolate they have while you get advice about the thing that nobody else would understand, and then…
…go buy yourself a pair of shoes!
16 Comments
RSS feed for comments on this post.
Sorry, the comment form is closed at this time.