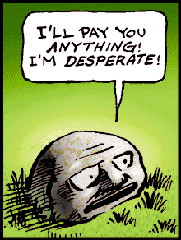 Last year, I finished my first book! Hooray!
It took me a year to write it. I wrote a chapter a week. I dunno, I think it's pretty darn good and I'm not basing that just on my own biased opinion. My husband Auguste thinks it's GREAT! My 10 year old daughter, Gussie, thinks that it is the best thing since That's So Raven, (but again she's 10 and still thinks everything I do is heroic. I expect that will change in about, oh…the next 5 minutes).
Anyway, so I have written this book called Get Piggy With It! 52 Days, 52 Ways to Jumpstart Your Life. It's based on this joke that's not all that funny but you'll get the point –
Have you heard the one about the bacon and egg breakfast?
Answer: The chicken's involved. The PIG is COMMITTED!
(See, it's not all that funny but you DO get the point!)
The book is good!
so why hasn't the bidding war between publishers started yet.
I think that they may be a wee bit concerned that the book might not be able to hold it's own up against Chicken Soup For the Soul, but it will! Really! And they don't have to take my word for it. All they have to do is ask Auguste and Gussie!
Now that I have cleared up this misunderstanding, I expect that the phone will start ringing off the hook. Just give it a day or two. Those publishers will be camping out on my doorstep.
Stay tuned because,
I am going to be keeping you posted!
11 Comments
Yes, why hasn't a bidding war begun?

Dana, I love reading your messages on Monday mornings. It has evolved itself into my early morning ritual. A cup of Java and a message from Dana Roc. Wow… now that's a powerful start:)

And, I've also gotten into the practice of forwarding them on to friends and family.

So, what's the problem book publishers? Are all your readers going to have to write to their favorite publisher so we can get this started?

Anyway… I'll see you all at Dana's book publishing party:)

Comment by Yves — 4/26/2005 @ 1:33 PM

Keep trying…publishing is a hard world. Submit it to the publishers until you are blue in the face. Rejections aren't about you…Good Luck!

Comment by Princess Wild Cow — 4/26/2005 @ 9:11 PM
RSS feed for comments on this post.
Sorry, the comment form is closed at this time.