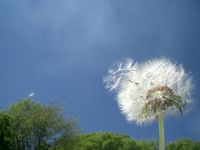 Why of all things I was thinking of that…
The other day I found myself in the middle of a coughing attack, choking and unable to breathe. I was scared as I struggled to get some air; any air, and I was suddenly so aware of this necessary element that I understandably take for granted.
As I contemplated being found sprawled out on my bathroom floor, I was confronted with the reality that –
No matter how deeply you breathe, no matter how much air that you take in at any given time, you can't store it up for the future.
You can't store up extra air in your lungs for those times that you might need it and can't get it. The only air that counts is the air that you can breathe in right now.
There is something a bit poetic about that, don't you think?
No Comments
No comments yet.
RSS feed for comments on this post.
Sorry, the comment form is closed at this time.