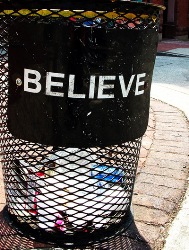 He is always there, rain or shine.
I have seen him in mittens and scarves, in t-shirts and umbrellas and back to mittens again, this quiet man who stands on the corner, patient and steadfast, passing out promotional pieces of paper to passersby.
I don't think that he has ever missed a day.
I imagine that he has a wife and at least three kids. His wife probably doesn't work. It just seems like he has people who love him, to go home to at the end of everyday.
So…
Everyday he tries to hand me a flyer and everyday I shake my head –
"No"
Doesn't he realize that I pass him two or three times a day and that if I didn't need a flyer about cell phone discounts this morning, I don't need one this afternoon?
The other day I took a flyer.
The other day –
it was really cold.
No Comments
No comments yet.
RSS feed for comments on this post.
Sorry, the comment form is closed at this time.