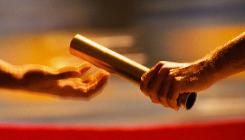 It is absolutely sad and it is without a doubt a tragedy,
However –
I refuse to believe that with all of the other things going on in the world, people want to entertain, night and day, day and night, speculation about whether or not someone donated sperm to, or whether this one or that one had sex with –
Anna Nicole Smith.
I don't want to wallow in that kind of inquiry and I don't think that "turn the channel" has to be the only option.
Supposed credible news organizations that expect to be taken seriously, run tabloid stories over and over and over to the point of making us numb, leaving me to fantasize about what it would be like if the people who had the floor, the people with control of the mike —
didn't always follow the path of least resistance.
What would it be like if we got our news and information from sources that weren't so committed to dumbing it down?
I can only –
IMAGINE…
…and that's where it all begins.
86 Comments
I've taken a different view of the tragic loss Ms. Anna Nicole Smith's life. I agree that the media has beaten this story into the ground. My main concern right now is for the 7-month-old daughter she left behind. Did not anybody love Ms. Smith enough to tell her the truth to keep her from self-destructing? Mr. James Brown and Mr. Gerald Levert did not get as much news coverage despite all they've accomplished.

Bottom line, people are still hurting and still crying out for help daily. Matters not the colour of their skin. But is anybody listening? Can it be that we're all dealing with the same unresolved issues while living in a society that failing meet the basic needs of its people? I hope not.
RSS feed for comments on this post.
Sorry, the comment form is closed at this time.