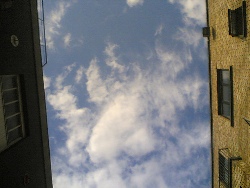 If you haven't seen the movie On a Clear Day yet, you should see it.
On a Clear Day is an English movie about a shipyard worker who loses his job suddenly, after 35 years, leaving him withdrawn and resigned. His refusal to give up on his life and what it has all meant leads to his courageous decision to swim the English Channel.
I love this story about a family struggling to reconnect. But, what really makes it, now, one of my favorite movies is that it reminds me of the fact that –
It takes courage and strength to live life everyday.
Living, really living wide awake and ready to play, takes, sometimes, all you've got. Sometimes it will require what you didn't even know you had.
Frank, the main character in the movie, is tempted to quit on more than one occasion while training for his swim. He is encouraged, however, by a boy who can't walk, yet comes to the local pool to swim, with tangled legs, everyday. It takes everything this boy's got to swim the width of the pool but he fights with everything in him, and each time he makes it to the other side of the pool he celebrates by screaming and cheering for himself. Frank watches this boy from a distance and he gains strength from his resolve.
What Frank doesn't realize is that he too, even in his time of self-doubt, is a source of strength for others.
Frank's friends have each, in their own way and through their own specific set of circumstances, gained confidence in themselves to triumph because of Frank's courage and determination; because he battles to overcome. Frank's willingness to keep digging down deep to find what he isn't sure he's got, to do what he isn't sure he can, makes him a hero to the people that -
Frank doesn't even know, are watching.
Like Frank watched that boy and like Frank's friends were watching him, somebody is watching YOU.
Somebody is being encouraged by you because you haven't given up. They are wondering how you do it, believing that because you do it, then they just might be able to do it, too. Somebody is watching you right now, clueless about the enormity of your struggle, unaware of the depth of your pain, and they silently root for your victory because for them, you represent hope.
Next time you think that you can't do it, when you think that life's unfair, try to remember that:
You are somebody's lifeline. Somebody, somewhere has got their eye on you.
10 Comments
No comments yet.
RSS feed for comments on this post.
Sorry, the comment form is closed at this time.