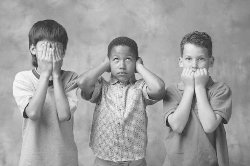 On a recent trip to the Midwest, Auguste and I had the opportunity to talk with a woman about life in her town. She talked to us about how bad the job situation is and about how much things have changed for the worse. When she shared with us that she works two jobs and still can't afford her health insurance we asked her if she had seen the movie Sicko, which is a documentary that confronts the health care crisis in America. She immediately became defensive and let us know that she had not seen the movie and didn't plan on seeing it because she hates Michael Moore. When I asked her if she had ever seen any of his movies or read anything that he had written she answered "No. I have not".
It is my belief that we are in the middle of a serious crisis in this country and I am not talking about our health care system or lack thereof. We are in a crisis with regard to our lack of willingness to think for ourselves about issues that profoundly effect how we can live our lives everyday. That we are so quick to form an opinion based on marketing and manipulation; that we are unwilling to do our own investigatory work and arrive at our own critical conclusions; that we are too lazy and complacent, too otherwise occupied or distracted to deal with issues that will literally result in whether we can live well or die, is our most urgent crisis indeed.
9 Comments
No comments yet.
RSS feed for comments on this post.
Sorry, the comment form is closed at this time.