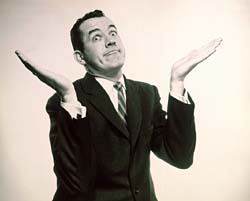 I was led to consider the other day the fact that:
People seem to be much more open to accepting that there is a God, not when they have everything that they need and things are going great, and not when they have lost something that they wanted with everything in their heart, wrestling with anger, disappointment and pain.
It occurs to me that:
People tend to be much more open to the possiblility of the existence of God when faced with the threat of losing something that they want so desperately to hold on to. It is during those times that God seems to be someone that anyone is willing to talk to, like —
worth taking a chance on after everything else has failed.
Do you ever wonder why that is the way it is?
19 Comments
No comments yet.
RSS feed for comments on this post.
Sorry, the comment form is closed at this time.