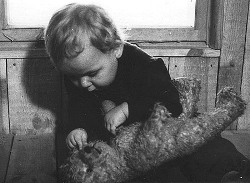 I was reading this report about a study that was done recently…
It was conducted at the University of Wisconsin Primate Center back in the 1960s. They had conducted the study with baby Rhesus monkeys and their mothers. They were trying to prove that children need the love of a mother because German psychologists, at the time, were contending that children didn't need love.
Anyway, they constructed these two pretend mothers out of wire…
They constructed one mother out of wire only, so that she would be physically cold and ugly and uninviting. But, she had the milk. The other mother was made out of wire also but they covered her in soft pillows and they gave her a pretty face. She had no milk. The baby monkeys spent only about one hour a day with the ugly cold mother only because she had the food. They spent twenty three hours a day with the comfortable mother that they could hug.
Then the scientists made the mother that the baby monkeys were drawn to — soft mother, do mean things to them like prick them hard when they leaned in for a hug. In other words, when they would try and go back to the soft mother and get the nurturing from her that they had known, they would only –
get hurt.
The thing is that:
No matter how hard that mother hurt those baby monkeys, they kept coming back for more. They kept trying to do whatever they could to gain the approval of that mother — charm her, entertain her — nothing worked.
No matter what she did to those little monkeys, they still only wanted that mother to love them back.
30 Comments
No comments yet.
RSS feed for comments on this post.
Sorry, the comment form is closed at this time.