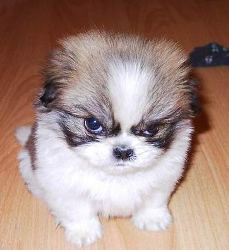 Jake, our dog, is in the habit of following me every time I go to the kitchen – in hopes of getting a nibble. Usually I give him an ice cube or a baby carrot.
One thing I have noticed is that Jake always finds his treat more enjoyable if he thinks that Claude, our cat, wants his treat as much, if not more, than he does. Jake will growl at Claudie and leap at his face if he gets within even three feet of him when he's begging for a nibble.
Yesterday I grab a carrot to give to Jake and, as if on automatic pilot, he turns to growl and leap at Claudie who is sitting across the room minding his own business. Determined to get full enjoyment, Jake grabs his carrot, prances over to where Claudie could care less, and drops the carrot right in his face. Then, Jake proceeds to tell Claudie off:
"What are you doing with my carrot?! I thought I told you to leave my treats alone!"
I am fascinated as I watched this sequence of events unfold and I can't help but to try and search for when I've done that same thing – dangled a carrot in front of someone who was just minding their own business so that my treat would be more enjoyable to me.
Claudie just sits back and looks at Jake as if to suggest –
"You Jake, are that guy that nobody wants to be (around)" …
7 Comments
No comments yet.
RSS feed for comments on this post.
Sorry, the comment form is closed at this time.