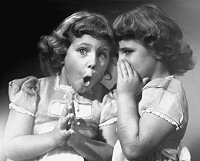 How do you live a great life?
I was asked this question recently. What I said was:
"By wanting what you already have as you wait to get what it is that you want; by being grateful for everything, even the stuff that you don't think you like and by accepting yourself the way that you are and the way that you are not" —
My answer failed to leave me inspired. The words that came out of my mouth were just noise. If I had answered the question by authentically being who I am, what I would've said was:
"By having the courage to show up — ANYWAY.
I know what its like to want something with all of my heart, what it seems like I will never have; to face the thing that I have feared the most and come out on the other side – whole; to get up in the morning and start all over again because I've got the guts to hope.
There are days when I just want to quit but I don't and I won't because my life is not about just me."
How do you live a great life?
You start by telling the truth…
It is only when we dare to tell the truth that we can begin to live a life of freedom and power and a life that contributes to other people. We can only begin transforming our lives when we stop apologizing for who we are and respond to the invitation to share our real stories – the ones that are the hardest one to tell and the ones we all long to hear.
The truth will set you free, will set another person free, will set a country free, will set the world free. The conversations that reveal who we are and that communicate what we stand for, are the ones -
that make a difference.
34 Comments
No comments yet.
RSS feed for comments on this post.
Sorry, the comment form is closed at this time.