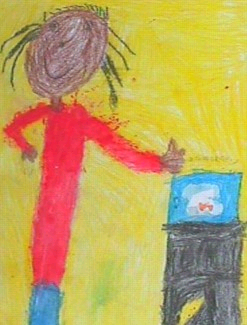 Every Monday morning for almost the last 2 years, I sent out an email message in newsletter form to a list of subscribers from around the world. This is the message from this week's newsletter. I hope that it contributes something to you.
Oh! and subscribe to the newsletter, to your right, if it does!
Have you ever noticed that you don't always get to pick the leaders in your life?
You know what I mean. Sometimes you just get assigned a leader that you have to follow whether you like it or not. It's one of the realities of life. But listen up:
Leader is a distinction.
A distinction is that which distinguishes one thing from another and sets it apart. Leader is a distinction. It is a role that someone got assigned to play. A specific role with specific responsibilities and things to be accountable for are what make up a distinction. A Boss, a President, CEO, Teacher, Coach, Pastor or Parent, are all distinctions that we are all familiar with. Consider that your "boss" is not merely just a person. Who your boss is, relevant to you, is the distinction "boss", operating from a series of expectations and standards that come with that particular territory.
People are distinct.
To be distinct is to be distinguished as individual; marked out, separated by a visible sign, separated so as not to be confused with any other thing; special. Consider that your "boss" is not merely just your "boss". Beyond the distinction "boss" there exists a flesh and bone person, operating from a series of opinions and judgments, past experiences, likes, dislikes, feelings and agendas that come with the condition of being a human being.
When someone is assigned to lead they come into that accountability, they step into that distinction with their own distinct personal identity — what they think, who they like , what they know and don't know, how they personally feel and how they personally operate. We all have a personal identity. We all have personal baggage. Leaders are not exempt and being a Leader, does not make someone more distinct or distinguished than you. You are distinguished and distinct because you are different than anybody else.
Leader is a distinction. And we are all distinct.
Imagine.
When you play the game of follow the leader while collapsing those two worlds — the world of the role that someone was assigned, and the world of personal identity, you are at risk! You run the risk of making someone greater than they are and you run the risk of making them greater than you. You are at risk for having no compassion for their humanity. You risk being disappointed, becoming disillusioned, having unfulfilled expectations. You will eventually just give up.
When I was seven years old and in…
Click here to read on
1 Comment
RSS feed for comments on this post.
Sorry, the comment form is closed at this time.