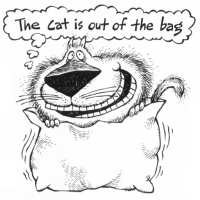 This morning I was putting something away in Gussie's room and I noticed 2 walnut halves laying there in the middle of the bed.
I was stunned because those were the same walnut halves that I had told her, not 30 minutes before, that she"had to eat or else no dessert after dinner" (As soon as I said it, I mentally gagged because I couldn't believe that I sounded so outdated).
Anyway, I'm looking at these walnut halves in the middle of the bed and I don't know whether to laugh, begin crafting some kind of memorable creative consequence for her disobedience, or conduct a one-on-one training for her when she gets home from school on how-to-successfully-pull-of f-a-sneaky-lying-move-on-your-parents 101. I mean c'mon Miss Gussie, this is basic stuff.
This is Sneaky Move 101. Here you go:
Use a napkin.
Place the food in your mouth as if you're going to eat it.
Fake a mini cough attack (a maxi will look to obvious).
Excuse yourself to go to the bathroom .
Flush.
Get on with your life.
This past Sunday I was talking with my Mom and in a moment of weakness I decided to share a Sneaky Move that I had pulled at 15 years old.
Me, Beth L., Trina T. and Becky R., decided that we were going to have our own party on New Year's Eve. We each told our parent that we were sleeping over at one of the other's for New year's Eve when instead, we rented a hotel room at the Sheraton. I chickened out though, and at around 9:30, I went home and told my Mom that I left the "slumber party" because I felt sick.
Just couldn't go through with the lie. I was also a bit of a goody two shoes so for me, that was way beyond Sneaky Move 101 behavior.
Even though my Mom and I laughed, I do regret telling her about that lie. She had no idea I did that and she seemed a little taken aback. I couldn't tell if she was disappointed in me for the lie or if she was disappointed in herself for not having figured it out. I think she and Gussie might have been a more compatible mother/daughter match in the Sneaky Move department. (Don't even try it Gussie, 'cause I will know)
Bottom line, and not that I'm proud of this but,
as a kid I did know better than to:
"LEAVE THE WALNUT HALVES IN THE MIDDLE OF THE BED"!!!!
66 Comments
RSS feed for comments on this post.
Sorry, the comment form is closed at this time.