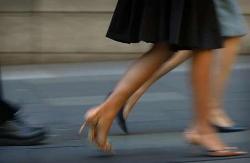 I've always been pretty comfortable moving against the grain…
I was on my way to where I was going this morning when I turned the corner. Suddenly, I was caught up in a stampede of people marching in the opposite direction. I looked around to see if there was anyone else who might be walking in the direction in which I was headed; anybody else "going my way", and I could see that there was not.
A little bit later it happened again…
I was on my way to where I was going next, and as I walked out onto the street, I was unexpectedly swept up in a crowd of people, once again, headed in the opposite direction.
Just then, my initial sense of feeling empowered as the lone maverick, daring to defy the masses and go the other way, slowly evaporated as as I felt compelled to sober up and observe that:
This seems to be one of the dominant methaphorical ironies of my life —
Either,
I am blazing an exciting new trail
or
I am entirely missing the boat.
No Comments
No comments yet.
RSS feed for comments on this post.
Sorry, the comment form is closed at this time.