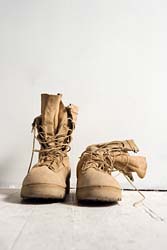 Yesterday, I watched a documentary about mothers, fathers, and wives, mourning the death of their sons and husbands who had lost their lives in Iraq. It was heartbreaking. I found it difficult to tear myself away from their reality. To consider the cost of war from such a profoundly personal vantage point offered to me a fresh sense of urgency with regard to peace and reconciliation.
If you have a moment, click here to watch:
The cost of war is indeed tremendous when you tally the tears shed for a husband, a father, a son, a daughter or a mother who will never be coming home again. The shattered hopes and dreams of a family, trusting that their sacrifice would mean something, now left to wonder if they had somehow made a terrible and irreversible mistake — I felt obliged to sit for a moment to contemplate all of the reasons -
"Why".
Sacrifice is sacred and must be honored as such. Ultimate sacrifice is not something that should be casually entered into or requested of someone upon a foundation of deceit. To ask a young man or woman to put everything that they are and that they have on the line when the reasons don't add up, represents the height of arrogance. And yet, to accept that request without question is to forfeit the very freedom that we all deem worth fighting and dying for.
Below is a repost of a thought that I shared last September:
I was remembering a poem this morning that I first read a while ago.
The poem is part of Spoon River Anthology, a series of poetic monologues by 244 former inhabitants of Spoon River, an area near Lewistown and Petersburg, Illinois. All of the speakers are dead "all are sleeping on the hill" of a quiet Midwestern cemetery. From their final resting place they speak their own epitaphs, discovering and confessing the defining moments or motivations of their lives. They reveal the well kept secrets that were behind their triumphs or their ultimate downfalls.
The poem recited by Harry Wilmans is one of my favorites in the piece. It is about the sting and the stench of betrayal.
Harry was a young man who trusted the people who he was supposed to trust and so he trusted Henry Phipps, the Sunday school superintendent, when he made a speech promoting patriotism and the importance of upholding the honor of the flag.
Here is what young Harry has to say in hindsight and from beyond his premature grave:
Harry Wilmans
I WAS just turned twenty-one,
And Henry Phipps, the Sunday-school superintendent,
Made a speech in Bindle's Opera House.
"The honor of the flag must be upheld," he said,
"Whether it be assailed by a barbarous tribe of Tagalogs
Or the greatest power in Europe."
And we cheered and cheered the speech and the flag he waved
As he spoke.
And I went to the war in spite of my father,
And followed the flag till I saw it raised
By our camp in a rice field near Manila,
And all of us cheered and cheered it.
But there were flies and poisonous things;
And there was the deadly water,
And the cruel heat,
And the sickening, putrid food;
And the smell of the trench just back of the tents
Where the soldiers went to empty themselves;
And there were the whores who followed us, full of syphilis;
And beastly acts between ourselves or alone,
With bullying, hatred, degradation among us,
And days of loathing and nights of fear
To the hour of the charge through the steaming swamp,
Following the flag,
Till I fell with a scream, shot through the guts.
Now there's a flag over me in Spoon River!
A flag! A flag!
Dana
No Comments
No comments yet.
RSS feed for comments on this post.
Sorry, the comment form is closed at this time.