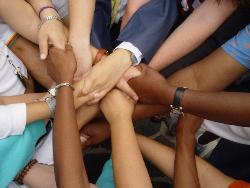 "And now we have an Irish Catholic as president of the United States. The same kind of progress can be made by U.S. Negroes. There is no question about it that in the next 40 years a Negro can achieve the same position that my brother has….We have tried to make progress and we are making progress… We are not going to accept the status quo." – Attorney General Robert F. Kennedy, Washington Post, May 27, 1961
Kennedy went on to say that "prejudice exists and probably will continue to exist but, when we look backward to celebrate the important contributions of Robert F. Kennedy, many are filled with a sense of nostalgia and courage. As we glimpse the future and recognized Barack Obama as the President Elect of the United States of America many are filled with a sense of optimism and of pride.
We marvel as the past poetically collides with the future, providing our nations with such a stunning moment in time. I still have not been able to emotionally drink it all in. History and history making events are sharing center stage today in a way that allows for us to entertain the possibility of deferring to our better selves.
When we called my mother-in-law last Tuesday night, we expected that she would be privately celebrating. She was. It was a night that she never thought she would live long enough to see.
I listened, and beyond my usual polite and obligatory tendency, as Auguste's mom shared with me that she remembered so vividly how, when Auguste was a very little boy, she would have to explain to him that in Florida little Black kids were not allowed to sit at the counter to eat their lunch. She reflected with sadness about how she used to have to tell her two year old "no" when he asked her if he could ride on the department store merry-go-round like other kids. He hadn't noticed that the only kids riding the merry-go-round were White.
But on November 4th, 2008, at 11:00 o'clock at night my mother-in-law found the resolve to finally set those lingering memories aside for the opportunity to celebrate a new and better day! She told us from the bed where she has been quietly reconciling the end of her life, that she has decided that she is "not going anywhere yet because I intend to see Barack Obama inaugurated as President of the United States of America"!
She never thought that she would ever see this day.
Robert Kennedy said that it would happen in forty years and while it may have taken forty eight, the lives of many have been forever changed.
No Comments
No comments yet.
RSS feed for comments on this post.
Sorry, the comment form is closed at this time.