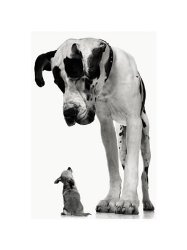 Jake (our dog) weighs five pounds – five and a half pounds on a good day. In spite of this deficit however, he is fearless when it comes to big dogs. Bull Dogs, Golden Retrievers, German Shepherds, Boxers – Jake will engage in an aggressive encounter, unprovoked.
On the other hand, what Jake is afraid of is walking on floors without rugs, turning corners (as in passing from one room to the next), going down stairs (he will go up a flight of stairs with no problem), and his dog food (which might begin to explain his weight problem).
Jake is what we refer to at home as –
low fat and high maintenance.
(P.S. If Jake were a person, he'd be Barney Fife)
No Comments
No comments yet.
RSS feed for comments on this post.
Sorry, the comment form is closed at this time.