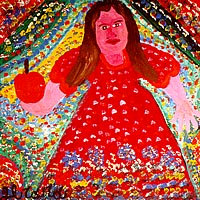 What can I say? I feel very betrayed.
Here I thought that we understood each other. And I certainly never thought that he would be where he was, about to do what he was about to do after all we've been through.
I thought that our unspoken agreement was a sacred bond!!!
Well, I guess not.
Today at 4:17 PM, to be exact, Auguste called me from his cell phone to confess that he was about to cheat and that there was nothing that I could do or say to stop him.
What!!?? Should I be grateful that, for some reason he felt the need to call me to tell me even though he had already made up his mind to do this? What exactly was the point of this call? I wanted to speak up — to take a stand for the integrity of our commitment but,
the words just stuck in my throat.
Then he said softly "Look, I have had a very stressful day and I need to do this. I uh, um…
… and that's just that"!
It was then that I heard a small voice in my head that said "Cut the guy a break. Afterall, he has been very deprived lately. Perhaps you could just overlook this apparent inevitable betrayal — just this once?
"Not only is it O.K., " I swallowed hard, "but you have my blessing".
He admitted to me later, when he got home, that he should have excercised more will power. He admitted that he could have considered our commitment to one another before he allowed himself to be weak. He admitted that, in hindsight, he had not been thinking with a clear head. But, to tell you the truth, I am no fool!!!!! And, I know this man better than he knows himself! The only reason that he was feeling any regret at all about giving in to his temptation, was because, ultimately, the experience had not been that great. Serves him right!
Turns out that the Turkey Burgers and Cottage fries at Cozy Soup and Burger are not at all what they used to be!
38 Comments
RSS feed for comments on this post.
Sorry, the comment form is closed at this time.