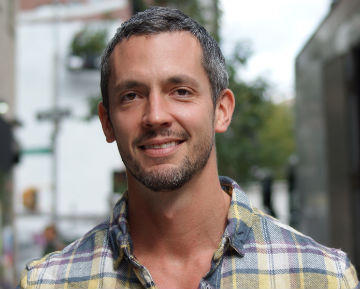 Name:
Sam McConnell
Age:
33 years old
Where are you from:
Salt Lake City, Utah
Where do you live:
Lower Manhattan. I've lived in New York for the past 15 years
What do you do for a living:
I work in film.
I own a production company with my partner Lukas Hauser. I am a director and a producer. I am also an editor. Our projects range from films, documentaries and various kinds of commercial work. We do a lot of web videos and music videos and Public Service Announcements.
I am mostly a director my partner is more of an editor. My favorite thing is to direct because I like working with people.
I am currently working on a documentary called Generation 8 with Timothy-Greenfield Sanders. It is about the state of The Gay and Lesbian Rights Movement post Proposition 8 as it looks like the case is heading to the Supreme Court.
I am also adapting a novel called In The City of Shy Hunters by Tom Spanbauer to be my first feature film…
What is that about?
It's a novel that is dear to my heart. The story takes pale in the 1980s in the East Village of New York City and captures a scene and a time in the downtown New York art scene that I caught just a glimpse of, just the end of, when I first moved to New York. That scene is the reason I fell in love with The City. There was such an incredible alive vibrant creative energy here back then. You would go out and on one side of you there would be a millionaire and on the other side of you would be a starving artist. Kids could come to New York with nothing but a dream and the cloths on their back and find a way to make it here. Unfortunately New York became so expensive that it squeezed out a lot of that creative energy. It's not so easy to chase a dream here anymore.
The City of Shy Hunters captures the spirit of the city that I fell in love with. It also takes place during the onset of the AIDS crisis.
The new generation of kids has really kind of forgotten about or hasn't had the experience of the AIDS crisis but I think it's a story that is worth telling and worth remembering…
What feelings does the question "What do you want to be remembered for in 100 Years" drive up for you?
Just to be remembered at all would be a lovely thing…
My grandparents have left an impression on me. There have been many artists and writers who have left something in the world that are important to me or moved me in some way…I don't know if…
206 Comments
No comments yet.
RSS feed for comments on this post.
Sorry, the comment form is closed at this time.