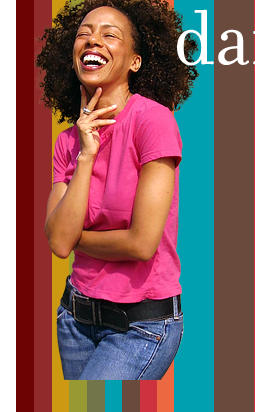 Delivered fresh on
October 26th, 2009
Greetings!
"People fear what they do not understand. The child will close his eyes when he sees something he fears. As he grows older, he simply learns to keep his eyes open and closes his mind instead."
Halloween always reminds me of how scared I was of everything when I was a kid. The funny thing is, just when I think that I've outgrown silly fears, it occurs to me that I am more afraid as an adult then I ever was as a child.
Remember the Boogie Man and how he was someone that we were all afraid of when we were kids? We would cautiously enter a dark room and we wouldn't dare look under the bed, dreading that we would wind up wide awake in the middle of the night, our minds undoubtedly settled on thoughts of the Boogie Man and what he was about to do.
Only nothing ever happened. The Boogie Man never did come out from under the bed. He never did get us and now we know, he never will.
So much of what we were afraid of when we were kids was not real and now we know that, but try telling that to a six year old! As adults we gain a new perspective -- the kind that can put a Boogie Man right in his place!
So, isn't it possible that our fears, as adults, are childish fears that have just grown up and changed form? Could it be that the Boogie Man has simply come out of the closet, out from under the bed and haunting us all over the place?
As an adult I am afraid all of the time - afraid that I don't have what it takes, that I won't overcome the challenges that I face. I am afraid that even with my eyes open and in my right mind, "happily ever after" just might –
never come.
Dana
DANA DELIVERED! User's Guide:
1) Open up your Dana Delivered! email.
2) Choose an article from the menu on the left hand side or just start from the beginning and read all the way through.
3) If you are reading an article and want to finish, Click on "Read More..." and you will be taken to our website. You can finish reading and while there, have a look around. Note: Dana's Dailies changes, well, daily so come back often.
4) Click on any of the words highlighted in red and you will be taken right to our site, DanaRoc.com.
In INSPIRING PEOPLE: Dana talks with International Marketer, World Citizen, Connector, Producer, Fiona Bloom. Fiona is a trained concert pianist with an ear for what is hot and what is not in the ever evolving music industry. Her knack for finding and promoting talent keeps her in demand. Enjoy Dana's EXCLUSIVE INTERVIEW with Fiona. What you see isn't always what you get.
Take a minute to read DANA'S WEEKLY INSIGHT and make sure that you listen to the AUDIO VERSION as well. There may be someone who needs you to pass that along.
Check out DANA'S DAILIES for no other reason than to hopefully smile. And come back and visit the blog all week at www.danaroc.com/dailies.
The special article FROM DANA'S GUESTS this week is Prescription for Healthy Living by Dr. Bert Petersen. Dr. Petersen is one of the top Breast Cancer Surgeons in the country. Bert is a great guy with a lot of great insight for good living. Enjoy his thoughts on wellness and health!
Check out AUGUSTE ROC'S MY TWO CENTS (For Whatever It Is Worth). There is something in it for YOU! While it may be "Two Cents" but you'll find it's worth a whole lot more. Feel free to email your comments to Auguste at auguste@danaroc.com.
This week's THE GOOD LIFE : BOOKS selection is McClellan Street by David Turnley (Photographer), Peter Turnley (Photographer). David and Peter Turnley demonstrate their unique and powerful ability to capture the heart of an individual person caught up in a moment without imposing anything. They are two of the very best at what they do. McClellan Street is a moving experience. Get this book!
Something useful in THE GOOD LIFE : WEB SITES this week. Check it out!
And there's more so sit back, grab a cup of coffee, relax and enjoy.
As always, thanks for reading!
Stay cool. Be hungry. Never look back. Always reach back. Fear not.
Believe always,
Dana

Disaster Recovery

There is a popular school of thought going around lately that would suggest that we are all ultimately responsible for everything that happens to us - the good and the bad. A lot of people think that you can concentrate, focus and determine your way out of negative outcomes or hard times. I don't. Sometimes stuff just happens! No matter what we do or how hard we try to avoid it, sometimes all hell will just break loose, whether we want it to or not.
When faced with a crisis, blind-sided and caught off guard, what matters is not what you may have done or what you could have done differently. What matters is -
How you rise to the occasion and who you can become.
She describes her son Jason as being a darling little boy with a twinkle in his eye, who loved little league and was president of the national honor society, who, after a summer at camp, decides that he wants to serve in the military and hold political office one day.
Carol says that she was looking forward to seeing her young son thrive.
After graduating from the United States Naval Academy in Annapolis Maryland, Jason went off to Orlando, Florida to nuclear engineering school where he met a girl named April. They fell madly in love and Jason telephoned his parents to announce that his orders had changed, he was moving to Rhode Island and because he and April wanted to be together, they were going to get married "next Friday".
"My only child was planning on marrying a woman that I had never met 'next Friday', Carol recalls. "But not only was he asking to marry a woman that I had never met, he was asking to marry a woman who was divorced with two children - 'next Friday', she concludes.
This was not exactly part of the plan that she had for her son's life.
When Carol met April, who had been previously married to a man who was sixteen years her senior, she loved her very quickly. She welcomed April and her daughters Chelsea and Hannah into their family.
Carol was looking forward to watching this new family thrive.
The first year of their marriage, April's ex-husband, who had been accused of abuse, had been petitioning for unsupervised visitation rights with his daughters. Carol recalls that Jason was often worried that his step daughters would be hurt if they were left alone with their biological father.
Then --
"We got one of those "middle of the night" calls that no parent ever wants to get. I will never forget watching my husband pick up the receiver, put it to his ear, pull it back saying 'Carol, Jason has just been arrested for the murder of his wife's first husband. He is in the jail in Orlando'".
Carol describes how her legs would not hold her weight as she tried to get out of bed and so she had to crawl to her office to call the Orlando jail.
Two and a half years later Jason was found guilty of murder in the first degree and sentenced to serve out the rest of his natural life in the Florida State Penitentiary, without the possibility of parole. They call it the "toe tag" sentence because the only way out is to be carried out dead on a slab with a tag on your toe.
A boy of such promise marched out of the court room in leg irons and chains.
Imagine.
One moment her life was going along exactly the way that she had planned and she would find herself in the next moment having to make an adjustment that would require her to make room in her heart for a divorced mother of two. In one moment that was the biggest problem she had, clueless to the fact that on the other end of a phone call in the next moment, she would find herself the mother of a murderer.
Sometimes bad things happen that our outside of our control. No matter what we do or how hard we try to avoid it, sometimes disaster just strikes, leaving us with the profound opportunity to discover -
who in the world we really are.
A year ago on Christmas day Carol describes that she was in the ladies room at the prison. She was in one of the stalls when another woman came in. She was weeping and cussing - "I hate this place! I hate these people! I think I'm having a nervous breakdown!"
The old Carol admitted that she would have given this broken-hearted woman some sort of irritating self righteous advice, but the new Carol was weeping before she even left her bathroom stall. Putting her arms around a woman that she had never met before, she told her how sorry she was for her pain. "My boy is here too." And then they cried together.
That woman needed to know that one human being understood and cared about what she was going through and Carol was able to provide that special brand of compassion that is earned on the battlefield when life deals you a bad hand.
And you?
How will you rise to the occasion and who will you become?
Bad things happen whether we like it or not. No matter how well we plan or how hard we pray, sometimes stuff just happens, yet somehow life must go on.
Adversity is a necessary part of self discovery that mysteriously completes our ultimate journey. It is through adversity that we develop the capacity to authentically connect with other human beings and the willingness to truly and deeply trust that -
beyond what is within our control, life can still work beautifully.
Dana
Have a great week!

International Marketer, World Citizen, Connector, Producer - Fiona Bloom

This is how the story goes...

A beautiful little girl with big blue eyes hailing from London, England dreams of becoming a concert pianist at the age of 5. After years of prodigious finger duets with the ivory keys she was accepted into the highly reputable Royal Academy of Music in London. From there her triple thirds, trills and thundering technique garnered two full prestigious scholarships; one at the University of the Arts in Philadelphia and the other at the University of Maryland. She also received a distinguished Steinway Piano award. While pursuing studies of classical music she was soon attracted to the sounds of two turntables and a microphone. Hip-Hop music had bounced into the room and Fiona was all ears. Soon Hip-Hop had this London gal down in Atlanta where she became a wildly popular radio personality and party host on WSTR 94.1 and WRFG 89.3 FM. It was at these two stations where Fiona got her schooling in this vibrant music culture interviewing the likes of George Clinton, Wu-Tang Clan, Chuck D, The Pharcyde and RuPaul to name a few. During this time, Fiona completed her Bachelor of Arts degree in Speech Communications and Broadcast Journalism at Georgia State University while honing her sultry voiceover skills.

It was also at this time that she was on the inside track of the burgeoning Atlanta Hip-hop music scene hanging around the likes of Outkast, Goodie Mob, Arrested Development, Dallas Austin, Joi & others, whilst working as a club promoter. It was 1994 when a call from then-EMI Records head Daniel Glass brought Fiona to the big city as a Director of New Artist Marketing. Here she worked with artists, Gangstarr, Soulsonics, Shara Nelson, Arrested Development and Digable Planets. After a brief stint at EMI, she continued to enrich her musical palette and took a job at an upstart record label called Zero Hour Records where she was the Director of Media Relations. She worked with such artists as Varnaline, Space Needle, Swervedriver, Steve Wynn, John Wesley Harding and Notwist. After achieving critical acclaim for her artists and label, Fiona's savvy entrepreneurial skills convinced her boss to allow her to start her own Hip-Hop label as a subsidiary of Zero Hour called 3-2-1. Here she was recognized for signing the critically acclaimed Hip-Hop group Blackalicious, in addition to other notable underground hip-hop acts such as; Connected, Skeme Team, Rubberoom, Scienz' of Life, Micranots and Big Jus of Company Flow. If running a fledgling indie Hip-Hop label wasn't enough, Fiona's constant drive led her to pursue independent publicity for such artists as Bahamadia, Mystic, Jigmastas, Jeru tha Damaja, Shabaam Sahdeeq, Spontaneous and others. For everything that has a season, Zero Hour expired and 3-2-1...counted down, but Fiona stayed up and blossomed into co-creating Sub Verse Music. A Hip-Hop troika between her, Big Jus and Wall Street maverick, Peter M. Lupoff. Sub Verse Music quickly became an established and reputable indie Hip-Hop label featuring such acts as Micranots, MF DOOM, KMD, Rubberoom, Big Jus (Company Flow), Hemisphere, Source of Labor, C Rayz Walz, and Scienz' of Life. In addition, Fiona also created Subversive Skool, a critically acclaimed music showcase for emerging new artists on the underground Hip-Hop scene.

Since then, Fiona has been honing her skills and cultivating relationships world-wide in International business making introductions, initiating licensing and distribution deals, booking festivals and European tours as well as giving endless advice/consultation on being savvy and knowledgeable in 'International business' to boutique and independent companies such as Rawkus, Game, GoodVibe, Rhymesayers, Lyricist Lounge, Recon, Bomb Hip Hop, Frank 151, Brash Music, Babygrande, Purpose Records, Burning Heart, AllCity, and others.

In addition, she became a talent buyer for the acclaimed NY venue Joe's Pub/Public Theater from 2004-2005. She created a platform for International artists to showcase their artistic merits and NY debuts from around the world.

Most recently, Fiona accepted a position heading up the International department at TVT Records in NY where she managed the International affairs for Ying Yang Twins, Pitbull, Teedra Moses, Towers of London, The Blue Van, Ambulance and others. After a year, she has decided to go back out on her own. The Bloom is in Effect. Once an entrepreneur, always one.
I enjoyed listening to Fiona as she filled me in on the unpredictable journey that has landed her in New York City, helping to shape the careers of tomorrow's music industry stars.

She absolutely defies any pre-conceived notion about who should be doing what in the world of hip-hop and R&B. Smart, confident and determined, Fiona Bloom considers that she is successful, while admitting that she is nowhere near where she ultimately wants to be...
DR: Tell me about your work and your life.
FB: I have recently launched a company that is a one stop shop for lifestyle marketing and promotional needs called The Bloom Effect. I provide boutique companies and independent companies an opportunity to get ultimate exposure for their brand. I do everything from international consulting to multi-media and web marketing, to A&R consulting and I produce events.
DR: What is the best part of all of that for you?
FB: The best part of it for me is discovering...


Dr. Bert Petersen's is one of the leading breast cancer surgeons in the country. His expertise in the area of Cancer care and the over-all well being of people, is surpassed only by his desire to leave a legacy of healthy living behind. He works tirelessly to improve healthcare for people where it is needed most and he is never, ever too busy to lend a helping hand.
Prescription for Healthy Living

Bert M. Petersen, Jr., M.D.

Chief of Breast Surgery and Co-Chief of The Division of Breast Oncology at The Cancer Center at Hackensack University Medical Center
Associate Professor of Surgery, University of Medicine and Dentistry of New Jersey-New Jersey Medical School
Medical Education: Johns Hopkins School of Medicine, Baltimore
Residency: surgery, George Washington University Medical Center, Washington, D.C.
Fellowship: surgical oncology, Memorial Sloan-Kettering Cancer Center, New York City
Board Certification: surgery
Specialization: breast cancer and breast diseases
Research Interests: treatment and prevention of breast cancer and breast diseases
Honors/Awards: National Cancer Institute/National Black Leadership Initiative on Cancer's Unsung Hero Award, The WNBA and National Alliance of Breast Cancer Organizations' Breast Health Hero 2000 Award, Hall of Fame 2001 in "Best Doctors of New York" (New York magazine), one of the "100 Best Black Doctors in the United States" (Black Enterprise magazine), "Top Doctor" (Redbook magazine)
Memberships: Cancer Care (trustee), Project SHE (trustee), Young Survival Coalition (Medical Advisory Board), Northern New Jersey Affiliate of The Susan G. Komen Breast Cancer Foundation (Medical Advisory Board), Upper Manhattan office of The American Cancer Society (chairman of the Board of Advisors)

Breast surgeon Bert M. Petersen, Jr., M.D., has devoted his entire career to the diagnosis, treatment, and prevention of breast cancer and other breast diseases. He works closely with the medical center's Betty Torricelli Institute for Breast Care to consult with patients who require surgical diagnosis and treatment. He has also been instrumental in developing a cancer center on his native island of St. Thomas in the U.S. Virgin Islands for residents there and in the Eastern Caribbean. Throughout his career, Dr. Petersen has engaged in a personal crusade to eliminate disparities in African-American cancer rates and has founded or organized many community outreach efforts for the public and educational seminars for physicians. Until 2003, he was a medical correspondent for WCBS Channel 2 News in New York City, where he covered breaking medical news and health care topics.
by Bert M. Petersen, Jr., M.D.

When I turned forty, my skin started going, but that was okay, because my eyes started going too. So, I couldn't see what was happening. It was like aging with the lights down low.
You know somewhere along the way between thirty and forty you begin to notice that you don't bounce out of bed quite the same way you used to. Its usually the first hint that we are all getting older.
Often we use forty as a marker. But how do you begin to chart a course for yourself that empowers you to manage your health throughout the life cycle.

Ownership

Coaches are very often the difference between which team will be successful and which team will not.
Expected to effectively prepare their teams, coaches rule by conducting exercises and proposing situations which develop and improve a player's physical, mental, strategic and athletic abilities. Referred to by some as the master's of X's and O's, coaches are recognized as having an affinity for detail and an obsession for discipline, more importantly, they are accepted as leaders who are expected to forward the action and advance the objective of winning the game.
A few of us have been lucky enough at one time or another, to benefit from the generosity of a talented coach, teacher, mentor or friend; a force that has emerged when we needed it most to forward our action and nudge us to play our better game.
But -
What do you do in those moments when you are alone on the court; when you are standing in the middle of the field with no sign of help coming - no coach to call the next play?
History will confirm and reveal that great men will always ultimately be required to look within, calling on themselves at times to champion a worthy cause.
When the battle heats up and you still hope to succeed; when you're looking for your help and for whatever reason, there isn't anyone else there -
figure out a way that you can help yourself.
Develop and improve your own physical, mental and strategic abilities.
Sometimes you've just got to coach yourself about whether you will or whether you won't. Sometimes you've got to be the one to emerge as -
the singular force to be reckoned with...
And, that's my two cent's (for whatever it's worth).
Auguste Roc
auguste@danaroc.com


Sweet Dream
Sometimes dreams really do come true.
It's just that sometimes the dream grows up and starts back talking with an attitiude.
The Dream will eventually start asking for things all of the time, like snacks 24/7. And then The Dream will start leaving dirty dishes all over the place so that you, who have nothing better to do, will have something else to keep from being able to sit for an entire minute without having to jump up and down, or something else to keep you from bringing just ONE THOUGHT to it's logical conclusion...
Oh, and sometimes The Dream bugs you endlessly about what to be for the big Skating Party and then doesn't want to take your suggestions but still gets fighting mad because —
"YOU ARE NOT HELPING ME COME UP WITH ANYTHING, Mom!"
Oh, and did I mention that The Dream will often request that you drop her off at a birthday slumber party and then rush you quickly out the door in embarrassment, now that you have served your purpose as chauffer and escort.
Ahhh! How beautiful it is when you have a dream and it comes true, especially a BIG dream — THE DREAM
...It's a beautiful thing.
Today however, The Dream has been behaving like a nightmare and so tonight —
The Dream is going to be in bed by Eight o'clock!


Why I am recommending ManyBooks.net:
Free Books! Need I say more? All you need is an iPod and the time it takes to download, and you are in business. Listen to your favorite books while you commute to work or work out at the gym. It is the ultimate in multi-tasking!
From the Website:

Browse through the most popular titles, recommendations, or recent reviews from our visitors. Perhaps you might find something interesting in the special collections. All of the 11,572 eBooks available here are free!

All of the eBooks from manybooks.net are free, however donations toward the maintenance of the site are welcome. Many of the etexts are from the November, 2003 Project Gutenberg DVD, which contains the entire Project Gutenberg archives.


McClellan Street

Why I am recommending this book:
Because David and Peter Turnley have so brilliantly captured the poignant in what otherwise might be considered the mundane. They have provided a poetic look into the soul of a struggling working class community, capturing its beauty and making it hard to look away.
Click here to purchase this book.
Amazon.com



More than 100 black-and-white images of a working-class neighborhood in Fort Wayne, Indiana, in the 1970s grace the pages of this photo-essay produced by acclaimed photographers David and Peter Turnley. These hauntingly beautiful, raw and real photographs documenting life on McClellan Street were taken by the Turnley twins with a single camera as a high-school project. Although the brothers did not grow up on McClellan Street, their photographs represent a very personal, sincere, direct, and loving interaction with life on a street in the heartland of America. Many of the McClellan Street residents had migrated from Appalachia and some were of Hispanic origin. In a neighborhood that many might have ignored, the young Turnleys saw beauty, diversity, and wonderment. With a maturity beyond their years, they captured the life of this community for future generations.
Click here to purchase this book.



To be able to slow down long enough to acknowledge and celebrate the seemingly random yet poetic moments in life; to celebrate the quiet beauty in the ordinariness of another human being, to take nothing for granted because in any moment everything might change -
is to understand what it means to really live.


DanaRoc.com is a multimedia Internet destination featuring Dana Delivered! -- an ezine filled with interesting stories and fun tidbits delivered fresh to your email inbox first thing every Monday morning. Both entertaining and informative, Dana Delivered! is packed full of sound advice, inspiring perspectives, great original interviews with influential and successful people, insightful and interesting guest articles, regular columnists, Dana's recommendations and more.

Dana creates every bit of content and handpicks every guest to encourage you to LIVE LIFE OUT LOUD and add richness and challenge to the way you live everyday. Dana will introduce you to people and themes that are unpredictable, pique your curiosity, provoke a response, elevate your conversation, show you how to build on your successes and invite you to live life beyond what you think is possible.

So, obtain a new advantage, get a quick boost to the soul or just a minor-ly adjust your attitude.

DanaRoc.com... DELIVERS!
E | dana@danaroc.com
W | www.danaroc.com