Books: Style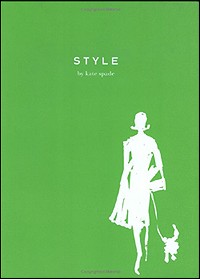 Why I am recommending this book:

Because we all have personal style, some of us are just more deliberate about communicating it than others.
Style is about sharing with the world something about who you are; something about how you see things and what makes you an original. It's about noticing what inspires you and incorporating that into your self expression.
Having a sense of personal style is important. Get in touch with yours.
Click here to purchase this book.
"A few lucky women have been born with style -- think Diana Vreeland and Jacqueline Onassis -- but for most of us, style is something that comes with time and experience. Above all, style begins with a sense of who you are and your self-confidence. Style comes from opening yourself to the world around you -- to books and movies, art, music, travel, and especially to other people.
In this upbeat and engaging book, designer Kate Spade talks about the many people and experiences that have inspired her. For Kate, movies as varied as The Swimmer and The Red Balloon have influenced her vision of style, as have such places as Mexico (where she and her husband, Andy, vacation each year), Napa Valley, and her hometown of Kansas City.
In the pages of Style, you'll find a large section devoted to the colors Kate most loves and suggestions for combining them. Accessories, which are the backbone of her wardrobe, are given full treatment here, including shoes, handbags, hats, gloves, and jewelry; and a portfolio of Kate's personal favorites from her own closet is showcased. Style in the office, evening style, even ideas for style when you travel and when you play are all featured here.
Style, with 230 watercolor illustrations, is a wonderfully personal and friendly book intended for readers of all ages and style temperaments. If there's one rule Kate espouses, it's that true style comes when you follow your own rules. Moreover, as the writers William Strunk, Jr., and E. B. White once wrote, "To achieve style, begin by affecting none." -Amazon.com
Click here to purchase this book.