Web Sites: Craigslist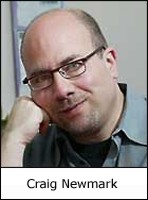 Why I am recommending Craigslist:

Why I am recommending Craigslist:
Because craigslist.org has taken the classified ad and turned it into a way to create --
COMMUNITY!
If you want it and you don't have it, try Craig's list and connect with people at the same time.
Click here to visit the Craigslist web site
Craig Newmark knows he's a nerd.
In high school in the late '60s, "I really did wear a plastic pocket protector, wear thick black glasses (taped together) and have marginal social skills," he says.
His glasses are a lot more high-fashion today. But he still loves gadgets more than clothes and is more comfortable in front of a computer than in the spotlight.
Which can make his life difficult these days, because Newmark, 51, is the founder of craigslist.org.
In the Bay Area, craigslist probably comes up in conversations thousands of times every day. And increasingly, it's being talked about in places as far- flung as New York, Boston, Colorado and London.
Craigslist is a giant Internet bulletin board where people buy and sell their stuff, trade humor and political wisdom, look for dates, seek home repair advice, share their poetry and often just rant.
Some call the site a public forum. Others call it a classified market. Many call it an obsession.
Click here to visit the Portero web site