Web Sites: TunstullStudio.com

Why I am recommending TunstullStudio.com:
Glen Tunstull has a unique and thoughtful approach to his painting. He is exceptionally inspired and his warmth and sensitivity are captured in each one of his strokes. For a simple way to send a beautiful experience to your friends, check out his paintings as postcards!
Click here to visit Tunstull Studio
From the Website:
The artwork currently depicted here reflects the world in watercolors as seen through the eyes of Glenn Tunstull. This will include images as diverse as Salvador, Bahia in Brazil, Martha's Vineyard in Massachusetts, San Juan, Puerto Rico, Provence in the south of France, Sag Harbor on New York's Long Island and Paris, France. Each image is an original watercolor painting that has been created on the location and is available for purchase as originals or made to order prints.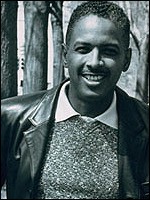 Glen Tunstull
About Glenn
Internationally acclaimed artist Glenn Tunstull's career has spanned thirty groundbreaking years, during which time the native New Yorker has been able to call the elite of fashion and entertainment champions of his work. They include Ralph Lauren, Kenzo, Silvano Malta, Joseph Abboud, Anna Piaggi (editor of Italian Vogue), as well as, actresses (and sisters) Debbie Allen and Phylicia Rashad to name but a few.
Celebrity friends and acquaintances aside, though, simply put Glenn Tunstull is an incredible talent. As a sought after illustrator with noted publications, fashion houses and high end stores such as Woman's Wear Daily (where he became the first and only African American artist to illustrate at the respected title), Vogue, Marie Claire, Henri Bendel's, Versace, Saks Fifth Avenue, Bloomingdales and Neiman Marcus, Tunstull was part of the era defining A-list of fashion illustrators. They included Antonio Lopez and Kenneth Paul Block who, along with Tunstull completely revolutionized fashion illustration in the late '70's and early '80's. It was the respect garnered during these former years in his professional life that served Tunstull well later in his incarnation as an international artist. Today he traverses the globe, capturing the nuances, subtleties and distinctive atmosphere of far flung ports of call with his striking watercolor and oil paintings.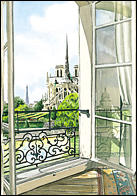 Click here to visit Tunstull Studio