Earth Day: A Speech Delivered by Al Gore
In honor of Earth Day which serves to remind us that we can preserve the planet for the generations to come if we are each willing to do our small part.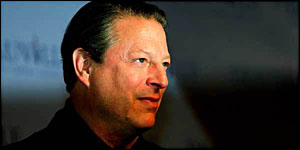 Former Vice President Al Gore
Earth Day Speech
Vanderbilt University
Nashville, TN
April 22, 2002
For thirty-two years now, Americans have come together on Earth Day to support cleaner air, water and land - and to strengthen our resolve to preserve the earth's God-given beauty and natural resources for generations to come.
We meet today during trying times. As we honor the protection of our Earth here today, in far-away nations, American soldiers struggle to bring terrorists to justice and justice to those that have been terrorized.
From the shadows of those fallen towers of September 11th, a new spirit of American patriotism has soared - a renewed sense of community, and an understanding we are all in this together.
Let there be no doubt: we stand shoulder-to-shoulder with the President and our brave service men and women in defending America from terrorism. We do so as Americans and as patriots.
But here in the United States, patriotism doesn't mean keeping quiet. It means speaking out and standing up for a stronger, more secure nation.
On this Earth Day, and during the days and months ahead, all who care about the environment should speak out, because our environment is under siege. There is a movement afoot by polluters to dismantle America's capacity to limit their releases of dangerous waste products and poisonous emissions, threatening to take us back to the days when America's rivers and lakes were dying, when skylines were disappearing behind a shroud of smog, and when toxic waste threatened countless communities.
America is only as healthy as the air our children breathe, the water they drink and the earth they will inherit. But instead of embracing the bi-partisan national consensus to improve our environment, the Bush Administration has chosen to serve the special interests instead of the public interests and subsidize the obsolete, failed approaches of the past, instead of the exciting new solutions of the future.
Instead of ensuring that our water is clean to drink, they tried to increase the amount of arsenic in our water.
Instead of abiding by the simple premise that if you make a mess, you clean it up, when polluters pollute, they want taxpayers to foot the bill. They say we can't afford to provide adequate security against terrorist attacks on our nuclear power plants - as Congressman Ed Markey disclosed yesterday - but then they tell us we've got plenty of money to pickup the multi-billion dollar tab for all the polluters who want to abandon their toxic waste dumps on America's doorstep with a note that says, "Dear Mr. and Mrs. Taxpayer: Please cleanup at your own expense."
Instead of keeping promises to improve our national parks and save endangered lands, they have drawn new boundaries to allow more mining and drilling within lands that were designated as national monuments. In Yellowstone, rangers even had to don surgical masks to protect themselves from the increased air pollution.
The very first Earth Day was organized because a handful of Americans decided to provide leadership to say no to dirty air, poison water, and toxic communities. We too must rise to the challenges of our own day and wage a battle on behalf of the environment and our future.
So on this Earth day, let us renew our focus, and together define the real leadership America needs to guarantee our national security, develop an economy that rewards innovation and productivity -- and assure our children can grow healthy and strong.
Our families deserve it, our security requires it, and our future demands it.
Energy Security is Central to Our National Security
First of all, make no mistake, our environment and energy policies are a critical matter of national security.
The Bush-Cheney energy policies leave us at the mercy of a region that's racked with violence and instability, now more than ever. Obviously, we need to reduce our dependence on foreign oil, so that America cannot be held hostage to global chaos and tin-horn tyrants like Saddam Hussein.
But what's their solution?
Drilling in the Arctic National Wildlife Refuge, one of our greatest national treasures, causing decades of environmental damage - to reap just a few months of increased oil supply.
Even though this plan has been soundly renounced by the Senate - thanks to John Kerry, Joe Lieberman, Paul Wellstone and Tom Daschle - the White House has committed to try again. That's why in my opinion it is so important to elect pro-environment Democrats to the House and Senate this year. The fact is when 65% of the world's oil supply is in the Gulf and only 3% in America, we cannot drill our way to self-sufficiency.
How much more instability in the Middle East will it take to get the message? How much terror and chaos in the heart of our oil supply, before they realize there's a better way?
Economy and Innovation
This crisis represents an opportunity not only to reduce our dependence on foreign oil for once and for all but also to embrace technologies that clean up our environment and create new jobs.
If you go to an auto show today, you'll see technologies for cleaner cars that get 80 miles to the gallon. Even the Republican Governor of Michigan is now calling for a replacement to the internal combustion engine. Has a nice ring to it, doesn't it? Yet the Bush Administration has stalled efforts that would take these new automobiles from auto shows to our streets and highways.
If you talk to executives at enlightened energy companies, they'll tell you about alternative energy sources that can power our homes and our offices while reducing greenhouse gas emissions. Yet the Bush Administration reneged on their commitment to reduce carbon dioxide. In this morning's newspapers, the White House attacked my proposals for reducing CO2 , saying that the American people rejected that idea in the election of 2000.
WE CAN SOLVE IT





No single person will stop global warming, but by working together, we can make it a priority for government and business. We'll succeed because when people unite and call for action, change is inevitable. Together we can solve the climate crisis.

The We Campaign is a project of The Alliance for Climate Protection -- a nonprofit, nonpartisan effort founded by Nobel laureate and former Vice President Al Gore. Our ultimate aim is to halt global warming. Specifically we are educating people in the US and around the world that the climate crisis is both urgent and solvable.

Visit WeCanSolveIt.org to learn more.

To join in the larger conversation, visit AlGore.com. And, to keep up on what Al Gore is currently thinking, visit his blog at http://blog.algore.com/
Now there are two things wrong with that charge: First, they are overlooking the fact that during the campaign then-candidate Bush also pledged to reduce CO2 emissions. But then, the day after he took his oath of "honor and integrity," he made that his very first broken promise.
Second, refresh my memory: Did a majority of the American people endorse his policies in the election? I didn't bring up the election of 2000. The White House did; But since they did, here's what I remember: He won the election and he is our President, but he ought to be more careful about claiming that a majority of the voters endorsed his policy payoffs to polluters who pressured him to break his promises to the public.
You know, every time we have acted to heal our environment, our opponents have said it will ruin the economy. And time and again, we have proved them wrong. In the 1990s, we showed that record economic growth can be coupled withrecord improvement in the air we breathe.
If we invest in technologies of the future, we can increase jobs and strengthen the long-term economic prospects of our country.
To today's nay-sayers who still promote the old myth that we can't afford to improve our environment, I say, we can't afford not to.
We can't afford to squander opportunities to reduce our dependence on foreign oil and strengthen our economy here at home.
Health
We can't afford to leave our children in a world that is bad for their health.
The more scientists learn, the more they understand about what we already intuitively know. More air pollution, dirtier water, more pesticides are harmful to all of us - especially our children.
Consider this: during the 1980s and early nineties, the prevalence of asthma increased by 75 percent. Today, asthma affects nearly five million children, accounts for 10 million missed school days every year, and is now the third leading reason kids go to the hospital.
A recent study in California found that children who play sports in high levels of air pollution are three to four times more likely to develop asthma. What kind of world are we building when parents of little leaguers have to be more worried about them catching their breath than catching a fly ball?
Yet instead of working to reduce air pollution, the Bush Administration's so-called 'Clean Skies' initiative actually allows more toxic mercury, nitrogen oxide and sulfur pollution than if we enforced the laws on the books today.
Instead of helping the millions of Americans in communities with dirty water, this Administration tried to increase the amount of arsenic in our drinking water. They have turned the other way even as new studies show our rivers are more polluted. While they seek to give polluters more leeway to poison our waters, Americans today and for generations to come will pay a heavy price. Now, breaking yet another pre-election promise on the environment, they are laying the groundwork for offshore oil drilling in California and Florida.
Special Interests/Secret Meetings
Why are they turning the clock back on the environment, when Americans want to move ahead?
When it comes to energy and environmental policy, the Bush Administration has brought the oil company representatives out of the lobby and into the oval office and let them re-write America's environmental laws during secret meetings.
Their first order of business was to withdraw from the global agreement reached in Kyoto to begin limiting world-wide emissions of Greenhouse Gases.
Then, they cancelled an agreement requiring the automobile companies to make the leap to a new generation of fuel-efficient vehicles.
Many less visible acts take place every day behind the scenes and often behind closed doors. Just as Enron executives were allowed to veto candidates for the Federal Energy Regulatory Commission, Exxon-Mobil got to remove the head of a prestigious scientific panel that monitors Global Warming. They got the Administration to withdraw its support for the re-election of Dr. Robert Watson, the highly respected leader of the Inter-Governmental Panel on Climate Change.
Instead, they threw their support to Dr. Rajendra Pachauri, who is known for his anti-American statements. In fact, the man President Bush has just chosen as the leader of the world's most prestigious environmental body has even called for, inhis words, "a worldwide movement which boycotts American goods as a source of global pollution."
Incidentally, this man President Bush has just given a global megaphone is also the principal opponent of President Bush's stated policy that developing countries should share in the reduction of greenhouse gases.
Why would the White House oppose a highly respected American scientist? Perhaps because Dr. Watson - like most scientists - says that if left unchecked climate change will result in more violent storms, more economic disruptions, more tropical diseases in America's heartland and more permanent flooding of coastal areas. The science speaks unequivocally: if we don't reduce greenhouse gases, we will disrupt our climate and put future generations at risk. It's just that elementary.
But, just as Enron needed auditors that wouldn't blow the whistle when they lied about future liabilities, Exxon needs a scientific panel that won't blow the whistle on the future damage that will be caused by Global Warming.
Their meetings may be held in secret, but their agenda is clear.
Conclusion
And our agenda should be clear as well. This is a moral issue. It is about our values. It is about who we are as a people. If we want to be a nation that honors our responsibilities, values our families, and protects our security, we must change our course.
If we want a nation that is not reliant on the dangerous and unstable Middle East, than we must change our course.
If we want our children to drink clean water and breathe clean air - and if we don't want to make more of them vulnerable to debilitating asthma - than we must change our course.
If we want to protect the great Smokey Mountains from devastating acid rain, we must change our course.
When Tennesseans gather together here100 years from now to celebrate Earth Day, let's make sure they too have witnessed the magic of the Smokey mountains and the calm of the beautiful lakes of across this great state.
Let them remember us as dedicated stewards of our nation's air, water and land. Let them say we were wise in our time because we worked to protect the Earth God gave us for all of time. Thank you and god bless you.