Christopher Pizzo
Chris Pizzo is a bull dog when it comes to going after exactly what he wants in life. It is one of his most compelling qualities. Former investment banker turned independent filmmaker and producer, his gutsy attitude continues to pay off.
MAKE IT HAPPEN!!! NO MATTER HOW BIG THE DREAM
By Christopher Pizzo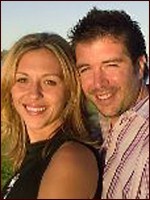 A hot, humid summer day in New York City...June 30, 2005. I remember that it was hot and humid, not only because most summer days in New York are like that but because I had to wear a suit and tie to a very important business meeting. Normally, I dress business casual, especially in the summer. It was very hot and muggy and I was sweating through my t-shirt, my dress shirt and my suit coat...ugggh! I returned home that evening to my wonderful fiancé Rebecca, we had dinner and realized it was time for a talk about where our lives were, where we were going and how we were going to get there. Needless to say, we were in the midst of planning our wedding, which was to take place in Northern Minnesota on September 3, 2005, just barely over 60 days away.
During our discussion, we were brutally honest with each other and ourselves. We were not happy with our living situation, our financial situation and many other things in our lives. We had each other and that was all that mattered at the time. However, life was hard. We were struggling financially, we didn't like our tiny apartment that we were busting out of, we were unhappy with our neighborhood in which we lived and at times we felt handcuffed and unable to do anything about it! Well that night everything changed. We realized that they way we were living was totally inconsistent with our dreams, our goals, and our abilities and in a moment of inspiration, we knew that not only did we have to do something about it, but we realized that we could. The old Chris and Becky and the relentless passionate attitudes were magically back!
We knew we had to not only do something radical but we knew we had to move quickly. I say move and I mean move. We came to realize that we had put ourselves in unfavorable positions that were inconsistent with winning our game of life. Most people say that you are a product of your environment and we sure felt that way. Our living quarters, our neighborhood and our overall way of life just didn't match up with who we knew ourselves to be and what we knew we were capable of. Then it hit us. If we wanted to have it all, if we wanted to realize our dreams and goals, if we wanted a better quality of life, then we needed to MAKE IT HAPPEN!!! NO MATTER HOW BIG THE DREAM.
Our initial step was to wake up, first thing the next morning, July 1, 2005 and call our landlord. We gave notice of 30 days with more than 6 months remaining on our lease. He understood our commitments and was very supportive. He allowed us to break the lease without penalty, knowing he would relet our apartment very quickly. But there was something about the way in which we presented our request to him that came from deep down inside of our commitments, that persuaded him and inspired him to become one of the many, many people that would turn out to be critical players in our game to turn our lives around.
Now you might ask, where were we going to live? We had thirty days to get out and not an idea about where we were going to move, not a box packed, not a plan and remember, a wedding in 62 days half way across the country! People told us not to do it, to wait until after the wedding. We were crazy! As with most BIG DREAMS there are many naysayers that surrounded us. Not to say they weren't supportive, but they had a hard time thinking we could pull it off. What transpired over the next 40 to 62 days is somewhat academic as it all worked out and I will gladly share the major details of the journey with you. But I don't want the details of the journey to overshadow what I consider to be the real point of this experience that I am sharing with you that basically took place that night of June 30, 2005. It is the commitment, the passion, the unwillingness to have a life that was not consistent with our goals and dreams that led to radical, risky action. That is the lesson and the point. Of course everything worked out, it had to! We left ourselves no other options but to create a new life, the life we dreamed of and wanted, just by recognizing what we wanted, understanding we had the power to change it and then taking action.
So how did it all go down? Well very quickly of course. Shortly after our phone call to our landlord, we began cleaning and getting rid of most of our belongings. We wanted a truly fresh start. In addition, a chain of events took place that would be hard to script in the biggest budget Hollywood movie. The stars lined up for us because we made them do so. Within a week or two, my fiancé got a call from a very close friend of hers, Jennifer, that was living and working in Las Vegas. Jennifer was working in the booming real estate industry in Sin City and had so much deal flow on her hands she couldn't handle it. My fiancé has been in the real estate business for 10 years so it was a natural fit for Jennifer to call her and ask her to head west and work together in the business. A big move, especially with a wedding coming up. My fiancé and I discussed it. Granted I had family out there, my father and two half-brothers, for nearly 25 years. Las Vegas was like my second home. However, it still was a big move! While we were analyzing the decision, Jennifer called again with more news. The renters she had in place in her investment home in Las Vegas had broken the lease and were moving out, with nearly two months of rent in arrears. Now not only did we have a great job opportunity for Becky, but all of a sudden, we had a 2,000 square foot house, two stories, 4 bedrooms, 2 car garage, home office and an in ground swimming pool that was ready to be moved into immediately. Given the type of business I am in (I own my own company in the independent film industry) I can really do what I do from a phone, internet and email anywhere in the world, so all of a sudden it was "Vegas Baby! Vegas!!!"
We packed up our car on July 29th after sending the movers on their way. We took one last look at the tiny apartment in Brooklyn, popped a small bottle of champagne, had a toast and were on our way! We drove to Minnesota on the way for some additional wedding preparations and Becky's bachelorette party and soon enough were back on the road heading west. We arrived at our new home in beautiful Las Vegas at around 5pm on August 10th! Our movers arrived a few days later and there we were, with a whole new life just like that. A few weeks later, we got back in our Toyota 4 Runner and drove for two days back to Minnesota for our wedding on September 3rd. After a very brief honeymoon in Northern Minnesota, we packed up and drove another two days back to our new home in Las Vegas and began our new lives together.
What we accomplished in those 60 days was incredible. It was difficult, fun, exciting, scary, hard work, challenging...all you can imagine. We relied heavily on friends and family for favors and support when and where we needed it. We made some mistakes, forgot to take care of certain small things, but overall the journey went very smoothly and there is no doubt someone was watching over us. Looking back, it is probably the single most important decision I have made in my life besides the decision to marry my wife (which was a slam dunk). It has also been one of the most rewarding and fulfilling experiences on so many levels. Sure, the quality of life has dramatically improved and as a result we are both healthier, more financially secure, and happier. But the biggest thing we both took away with us is that we have the power to MAKE IT HAPPEN!!! NO MATTER HOW BIG THE DREAM