Wine Just Got Hip!
Courtney Cochran, Your Personal Sommelier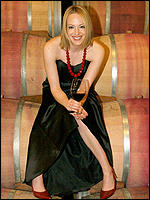 Courtney Cochran grew up in California's Central Valley, where she gained an early appreciation for wine and food while sampling the abundant produce at local farmer's markets and traveling frequently to the state's numerous wine regions on vacations with her family. A summer exchange program in France cemented her interest in both the French language and the country's finest export, its award-winning wines. Later, a semester at the Sorbonne during college led to extensive travel through France's most renowned wine regions and contributed to her decision to pursue a formal education in wine tasting and evaluation. It was also an excuse to drink lots of ridiculously good wine.

Courtney holds her sommelier certification from the International Sommelier Guild and the American Court of Master Sommeliers and operates a business, Your Personal Sommelier, in Los Angeles and San Francisco. The business enables her to channel her enthusiasm for wine and her knowledge of evaluating, purchasing, storing, appraising and selling wine into a livelihood.

A freelance writer, Courtney is currently working on a book about wine for savvy wine enthusiasts. Titled "Hip Tastes: The Fresh Guide to Wine," the book will be released in fall 2007 by Viking Studio, an imprint of Penguin. Courtney has passed levels 1 and 2 of the Master Sommelier program and continues to work towards the Master Sommelier title.

In addition to her wine education Courtney graduated Magna Cum Laude with a BA in English and French from the University of California, Los Angeles and is a member of the Phi Beta Kappa academic honor society. She also holds an MBA from the UCLA Anderson School of Management, where she studied marketing and entrepreneurship.
Learning more about wine, including which wine goes best with what food, what regions produce which grapes, is something that I've been meaning to learn about for some time now but it always seemed like something that I would never had enough time for. It also always seemed like something that I would have to do with really boring people -- that is until Courtney Cochran came along with her –

Hip Tastes!
_______________________________________________________________________
Hip Tastes is something that I created in January, 2006.
I had been living in San Francisco for about six months. I had started a business called Your Personal Sommelier, offering private wine tastings for people in their homes and also for businesses. While that business was growing and doing well, I started realizing that there was this need for wine events, open to the public that catered to the likes and needs of people in their twenties and thirties. I also knew, having just finished my MBA at UCLA that this was the fastest growing segment of the wine market and that people in their twenties were buying wine more frequently and at higher price points then the generations before them - and at an earlier age. This was really exciting news to me! I was seeing this first hand, having just been the president of the wine club at UCLA.
At UCLA we had lots of wine events where I tried to incorporate off-beat themes and talk to people in regular language about wine. It was the biggest club on campus. We had to turn people away at every event. Then I came to San Francisco and there were all of these wine tastings happening around town because it is such a wine city and I didn't feel compelled to attend any of them.
DR: Really?
Yeah!
So I thought that if I don't want to go to these and I have a passion for wine, what must my peers be thinking who are just recreationally interested in wine.
DR: Can you put your finger on why you weren't compelled to go to these events?
The first thing is cross-over appeal.
Wine resonates with young people when they can associate it with some other aspect of their life that they are already interested in. I found plenty of classes that you could and sit at around table with other people and a sommelier and learn about the wines of Umbria in Italy. While that is really exciting for someone who already knows a lot about Italian wines and is looking to become an expert in the Tuscany region, for me and for my peers that was just way too academic, too narrow and didn't have any relevance to our lives. When do you ever see wines from Umbria on a wine list unless you are dining at a place that has several thousand bottles on their list? People in this age group, in general, don't have that kind of money.
So I just started coming up with these fun themes for wine parties and then I decided that I was just going to do it!
I knew that I was going to be featured in Daily Candy for the San Francisco Bay area for my first business, Your Personal Sommelier. Daily Candy reaches a lot of readers so I knew that I was going to have a ton of traffic on that website. What I wound up doing was "pulling the trigger" you could say, at having my Hip Tastes website built within a week. I planned the entire first Hip Tastes wine tasting party and had my entire Hip Tastes website built within a week!
DR: Wow! I understand first hand what it takes to do that...
Literally at 3:00 AM on the morning that the Daily Candy piece was scheduled to drop, my web designer put on my Your Personal Sommelier homepage, a blinking button that said:
"Sign up for Hip Tastes: A Tastes of Spain"
which was my first Hip Tastes event.
We wound up capitalizing on all of the traffic that was going to my first site, Your Personal Sommelier and that completely sold out and was a huge hit. We had to turn people away.
DR: So exactly how was it that you crossed over into the land of the hip?
That event was probably my least cross-over, cross-over tasting.
The wines of Spain are pretty straight forward and I did know that Spanish wines have a lot of appeal to the younger demographic. It's a region that has gone through a lot of changes in the last twenty years. The wines are delicious and really reasonably priced. They are becoming much more widely available. In my opinion these are wines that this demographic wants to know more about. I have had a lot of people in my age group ask me about Spanish wines lately.
We also did tapas so that there would be a wine and food element and we did it at a night club in the V.I.P. area.




Looking for a way to up your wine IQ in just a few sips? Courtney Cochran's Hip Tastes is the only guide you'll need.

Welcome to wine education with a fresh spin. No mammoth encyclopedias, just simple, hip tips that will help you navigate the world of wine quickly and with confidence. Here, Cochran brings you up to speed on the basics every budding enthusiast needs to know – from vintages and varieties, to shopping, serving, storing and, most importantly, tasting wine.

To learn more, visit http://www.hiptastesbook.com.
One thing that I do with Hip Tastes:
I hold the events at places where I feel that the people in my demographic want to go anyway.
That was the other thing for me about more traditional wine events. A lot of them are held in places where young people don't go. It's not enough that wine is already intimidating and seems sort of foreign, but then to ask them to go to these venues on a Saturday or Sunday afternoon -- which is also not a very sexy time -- they already feel a little bit out of place.
I pick wine that I think will appeal to young people and I pick a venue that are going anyway - the V.I.P. are of one of the hottest night clubs in the city on a Friday night. There are very few wine tastings that are on a Friday night. Really what I created was a wine "party" more than a "tasting' all though we did have plenty of information about each wine along with a map of the region that it came from and things like that.
DR: What I think is interesting is that you are giving people a sophisticated reason to go to night clubs and socialize around having drinks.
Totally!
I wound up having almost a party a month last year. I developed a tremendous mailing list and a lot of traction and got a lot of press about it.
DR: So, it sounds like it was really well worth the effort to do whatever it took to get your website up in a hurry and on time to really maximize your exposure with Daily Candy.
I don't know if it was instinct or experience that led me to do that. I think it was a little bit of both.
I also worked for a start-up before I went to business school and I'm still in touch with the founder and his philosophy is:
If there is going to be a line out the door for some other reason, shouldn't you open your door and be selling something?
I thought:
"I've got this idea that I really believe in, I am going to have tens of thousands of people on my website, why wouldn't I take launch my new site right now?"
DR: Do you think that it was necessary to work as hard and as smart as you did to really launch yourself?
Absolutely! Without a doubt!
I loved last year and I loved all of the success that came out of it - I have a book coming out - but it was a tremendous amount of work.
You know, there are those periods in life when you know that you are creating something and there is traction and momentum and you are passionate about but going forward, but I am certainly looking at how I can outsource some of the event planning and work it out so that I am not having to work around the clock doing everything.
I am someone who really enjoys down time. It isn't conducive to creativity to constantly be going and going. You need periods of reflection and for me to be inspired I also have to be in a relaxed state of mind. I am constantly feeling this pull between being a business woman and getting things done and being a creative person. At the end of the day, my business pursuits are also creative pursuits so if I am not relaxed then my business will suffer.
I also feel strongly that it was absolutely necessary last year for me to do everything myself because I needed to create the brand very specifically. I was very specific about the look and feel about everything that I put on the website, every piece of collateral that I created for my events; I had to make sure that every single wine that I had at the events was outstanding. That is important when you are building a brand because there is not a lot of room to screw up by not meeting people's expectations.
Now I am at the point where I need some time to reflect and regroup.
DR: What do you like most about what you do?
I like coming up with ideas that offer my audience the opportunity to connect with wine in a way that is going to allow them to enjoy the process.
DR: What are you looking forward to the most?
To finding new ways to extend my brand.
I am really excited about ways to reach bigger audiences like with my new book. I have also been thinking about video for a long time. There is such a great enthusiasm for Hip Tastes in San Francisco but I can't mail myself to different cities. There is only me so I am also thinking about ways is to extend the brand so that I can reach wine Tastesrs in other cities.

I'm developing a web 2.0 site where users will be able to comment on my wine reviews and add their own comments and scores as well. It will be called The Hip Tastes Report, and since users' scores and comments appear too it will lend credibility to the entire Hip Tastes community of wine drinkers. I can't wait to get it up and running.
DR: For everybody out there who has been shy about learning about wine because they were intimidated or because wine has seemed stuffy and boring, what would you say?
I would say that wine is becoming much more a part of the fabric of our lives.
Wine is now being consumed at NASCAR races. Some wine brands are even sponsors of NASCAR.
DR: Really?
Yes and with things like the movie Sideways, a movie in which wine is a major character, is making it more popular.
Also, boxed wine as a category is growing faster than wine in bottles. Box wine is getting better and in fact some of the boxed wines are being made in varietals that appeal to people, like Chardonnay, Pinot Noir and Riesling. Where boxed wine used to be blended from a bunch of anonymous grapes and sold for $3.00, I think that it is becoming more sophisticated.
Target sells a really, really aesthetically appealing box of wine called The Target Wine Cube created by sommelier Andrea Immer
DR: Wow...I'm intrigued...
They have wonderful flavors and cute packaging and everyone that I turn on to that wine is so impressed.
What I am trying to say is that:
There are so many different ways to enjoy wine that are outside of the context of what we have always thought of wine -- being elitist and academic. You no longer have to go to a fancy restaurant and buy an expensive bottle to enjoy it. You can get it at NASCAR or Target; you can take it to the beach if you want in alternative packaging that doesn't break like glass.
I hope that I can strip some of what has made wine inaccessible to people. I hope that what I do appeals to people who have been feeling like wine is beyond their reach or has nothing to do with them because --
Wine is a beverage that goes along with celebrating the best times in life. It is meant to be enjoyed with a good meal; it is meant to be enjoyed around family and friends!
If you are looking for wine tasting guidelines, wine recommendations, or party ideas, then you've come to the right place. Consult the Primer for information about evaluating wine, browse Picks for recommended wines, and peruse Pen for articles on wine-themed party planning and other tips. Santé!