One Man Between Two Worlds
I have the privilege of knowing Robert Malii.

Robert was one of Gussie's pre-school teachers and he made a profound impact on our lives. His commitment to education and more precisely to children has earned him a permanent place in our hearts. Robert just has that effect on people. Read The Gift and find out how people are giving back to Robert by making a difference in an entirely different world.
One Man Between Two Worlds
by Dana Roc
If you've ever traveled, even the shortest distance, there is no doubt you've seen a bridge. It's likely that you have even traveled over one. If you've ever laid a plank or log down over a stream to keep from getting wet, then consider that you've even constructed a bridge.
A bridge is an everyday, ordinary kind of a thing, unless you stop to really consider what a bridge provides. It's a structure that provides passage over some sort of obstacle, barrier or gap. A bridge connects or reduces the distance -
Between.
Most bridges, they are just ordinary. They are just a part of everyday life. But in their ordinariness, bridges are magnificent, and there is no denying the important role that they play in our lives.
"Oh! You look beautiful today!"
These are the words of an everyday man - Tribeca pre-school teacher Robert Malii. "You look beautiful today!" is the way that Robert can always be expected to greet the "little people" entering Washington Market Pre-School for their first experience of life in the real world.
"I see little people." Robert shared with me as we sat and talked over coffee and fresh baked chocolate chip cookies. "I love them as a people. There is a love I have for kids, and I don't know why. I just love them as a people. And, I don't see 'children' when I look at children. I see that they will be something else one day, so then, I can consider their problems. Kids are -
our tomorrow."
Robert is an unexpected gem. To me, he is a treasure and a hero, but not like the kind that you read about in books or pay to watch on the big screen. His magnificence is quiet and his heroism is something that could be mistaken for everyday ordinariness. In the noisy hustle of everyday life, his brilliance could be missed.
Robert Malii was raised in Kenya, in a round two room house. He was raised by his father and his father's two wives. He had 21 brothers and sisters. Robert slept on a dirt floor along with the goats and the sheep. Hunger was not unfamiliar to him and he would be 22 years old before he would own his first pair of shoes.
In 1984, Robert left Kenya to move to New York City with his wife Virginia and his young daughter Lucy. Their second daughter Annie was later born in New York.
Upon settling down in New York, Robert decided to go to school. He would eventually earn a Masters Degree in Education. He graduated with honors.
"I can't tell anybody why I ended up teaching." Robert shares. "There is no reason why I went there. I just got an opportunity to be there and I found -- this is where I belong!"
Today Robert is a legend in New York City's Tribeca community. He has been teaching the pre-school children there for decades. Often the "kids" come back as adults to find out if he remembers them. They tell him "thanks" or they just give him a hug for the contribution that he has made to their lives.
Robert Malii's contribution to the people of Tribeca has always been appreciated. Now the people of Tribeca have an opportunity to give something back to Robert.
On Dec. 10, 2004, Robert's sister Mwikali Musyoni died in Kenya; in Usalama. She bled to death giving birth to her sixth child, the result of insufficient medical care. Naturally, Robert just wanted to go home; home to his dry and dusty Kenyan village, Usalama. Usalama is so remote that it does not even exist on maps. It is a world far, far away from Tribeca. But Robert's desire to "just go home" would spark an effort that will save many lives, by bridging the gap between two very different worlds.
The Tribeca Trib, a community newspaper, featured a story about Robert and the village in Kenya that he calls home: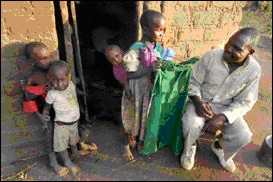 In August, Malii visits with his niece, Mbula, who cares for her baby brother Mutie. The baby, whose name, translated means "left out", survived the death of his mother during birth.
Photo: Evelyn Hockstein/Polaris for The Tribeca Trib
Twelve years ago the Kenyan government claimed the land of Malii's previous village for a game preserve and forced its people into the newly created village of Usalama, in a far-flung arid plain. There was almost no infrastructure to help them survive.

Like so many villages in sub-Saharan Africa, Usalama is decimated by AIDS. According to UNICEF, more than a third of the 350 children in primary school have lost one or both parents, most to AIDS-related illnesses.

The lack of easily available clean water contributes to a high death rate among the village's children. Rain is scarce and the closest potable water is a muddy stream 30 minutes away on foot. Villagers, usually women and children, spend hours each day toting water for bathing, cooking and washing. There is no water for irrigation.

"If the rain fails in December there's no crops, so people start starving," Malii stated matter-of-factly. Last December, the rain failed, and many villages subsist on corn sent from the U.S.
Over the years, Robert has touched the hearts and minds of hundreds of children in Tribeca and has become an extended member of many Washington Market School families. After his sister's death, when Tribeca parents asked Robert how they could help his six nieces and nephews, he told them that his village needs water.
Because of who Robert is, and as a result of his tireless commitment and invaluable contribution, people have rallied to provide.
According to the Tribeca Trib:
The group formed Mwikali's Gift, a nonprofit organization that hopes to raise the estimated $30,000 for a well in the village and additional funds for other development projects in years to come.
Worlds apart from where and how he grew up, Robert is the bridge between the world of Tribeca, an undeniably affluent American community, and the world of Usalama, an African community plagued with a critical, life threatening water shortage.
Robert is the common denominator. He is the bridge. And just like he bridges the communication gap that so often exists between "little people" and adults, Robert is bridging the gap between Tribeca and Usalama; providing passage over life threatening obstacles, and he is connecting people every step of the way.
"No. No, I don't consider myself a hero.", he assures me. "But I am happy for what I have done".
A bridge is an everyday, ordinary kind of a thing, unless you stop to really consider what it provides. It's a structure that provides passage over some sort of obstacle, barrier or gap. A bridge connects or reduces the distance -
Between.
But he is not an ordinary bridge. Robert Malii is a monument.
For more information on Mwikali's Gift, or to make a contribution, write to mwikalisgift@nyc.rr.com.