Derek Phillips
2005-2006 Tribeca Film Festival Filmmaker
Derek Phillips is the founder and Executive Director of the Real Dads Network, an organization that is committed to educating, supporting and empowering Black fathers. In 2005, The Real Dads Network, hosted its inaugural Black Fatherhood Summit, moderated the legendary James Mtume, and included a panel that consisted of Kurtis Blow-one of the first rappers to have a hit record ("The Breaks") in 1980; Barry Mayo, Senior Vice President and station manager of Kiss FM; Bill Stephney, co-founder of Def Jam Records and the group Public Enemy; Nation's of Islam's Min. Kevin Muhammad; Fatyn Muhammad, producer of Kiss FM's Open Line talk show; and Fatherhood Activists Thabiti Boone and Peter Holoman. This event received a full- length commentary in the Wall Street Journal.

Among his many accomplishments, Derek is also the founder and President of Jorma Productions, an independent production company, (affectionately named after his two daughters) that is committed to creating projects and programs that are educational, inspiring and empowering. Some of Jorma's recent works include:

In 2006, he produced, "Tuck That Shirt In", which has been chosen to run in the Tribeca Film Festival Family Festival.

In 2005, he produced the educational video "It's Time to Shine at 109". The video was shown at the 2005 Tribeca Film Festival and is currently on HBO Family's website.

He resides in Peekskill, NY with Maria, his loving wife and Jordyn and Maya, his two beautiful daughters.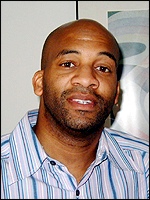 Keeping It Real
Derek Phillips is that teacher that you wished you had growing up. His commitment to educating children and providing meaningful support to them sets the bar high for us all. Derek rolls his sleeves up and goes where few will go and does what many have not. He is power without force and -

A REAL DAD!
As told to Dana:
What stands out for Derek as something that is relevant to who he is today and what he is up to today, is admittedly connected to his past.
A lot of stuff goes back to when I was young. Sometimes I talk to my students and they think that I don't understand what its like for them:
"You're a teacher. You have a job. You went to college. You can't relate to what we are going through".
What I tell them is that for me, life is not easy.
I was the youngest of four brothers and three sisters. First grade I played hooky from school, second grade I played hooky from school. I got left back in the second grade. I played hooky in the third grade. I played hooky in the fourth grade. I mean my mother used to say to me "Please. If you will just go to school, I'll give you anything you want." I still never went. The school told my mother "Even if he comes to school for a half a day, he can go home. Just come for a half a day." My older sisters used to take me to school and put me in my chair and I would run out. I would be home crying because I would have gotten a beating. My mother would just say "Please. If you can just graduate from high school then I can die. I will be happy."
My mother died when I was ten and she never had a chance to see me go to school. When she was alive and I went to school three days a week, she would brag about it but she also felt really bad because people would always say to her "Jessie, Derek didn't go to school again." She never got that opportunity to see me succeed.
In fifth grade I went to live with my sister. My sister took on all of us; four brothers and our two sisters. She was twenty six. Twenty six years old and she had three kids of her own. She was also an alcoholic. She used to drink three, four times a week. I went to stay with my sister and went to school everyday. Fifth grade I did very well, sixth grade I had an 85 % average and I was an honor role student, seventh grade was in one of the top classes in the school, eighth grade I failed every class. I didn't pass one class and yet they promoted me to high school. It was social promotion. They couldn't leave me back again so they sent me to high school. They sent me to the worst high school in the city, Thomas Jefferson high school in Brooklyn.
This is where a lot of my inspiration comes from, how I grew up. My sister was an alcoholic. I had an older brother who was an alcoholic. I had another sister who was in and out of a mental institution. I had another brother who was illiterate. I had another brother who dropped out of high school, and another one who dropped out, and another sister who dropped out. Nobody in my house actually finished high school. Only my brother, who was two years older than I was, finished high school. I am the only one in my family to actually go to college.
Coming out of that environment, I wanted something more for my life. Even when I was sixteen and I had my nieces and nephews, I would discipline them. I would tell them "You have to do your school work. You have to take care of your business." If they didn't take care of their business I would say tell them that they couldn't go outside. They would tell their, mother and she would say ask them why they were in the house, and they would tell her that Derek said we had to stay inside because we didn't do our homework. I disciplined them and this was at sixteen or seventeen! When I was sixteen years old I had made up my mind that:
I was not going to live that life that I came from.
I made up my mind up at sixteen. When I went to high school I was in College Discovery. I was in one of the top classes in the school. I went around the school in this organization called Rap Attackers where I spoke to other students about how to better themselves. I did an editorial on channel 9 about peace. My mind at sixteen was made up in terms of "I am a leader. I have to lead." From that point on, that is what I have tried to do. I have tried to use my life as the kids inspire me to move forward.
I went to college. I don't smoke. I don't drink and I tell kids listen to what I am saying because I know what I am talking about. More importantly, do as I do. I lead by example. I am not going to tell kids not to smoke or not to drink if I am doing it. That is how I live my life.
"The journey of a thousand miles begins with one step"

Derek's journey, the journey that has led him to where he is right now began when he was just a boy. He took his "first step" toward achieving when he was only 10 years old.
When my mother died I was a "bad" kid. My sister wasn't going to take me. I stayed at a cousin's house for a few days because they were thinking about me staying there. That was the point where I knew that I wanted something different for my life. I mean three days or four days a week, I would wake up in the middle of the night because my sisters and my brothers and their friends were arguing because they are drinking and fighting in the middle of the night and I just didn't want that life! I wanted to do more, be more than what I saw.
Derek has a secret for getting up and getting it done everyday...
What inspires me most is seeing people moving forward.
When I was teaching at the high school, graduation was like my "cry" day. You had these kids who people didn't expect to succeed who would graduate. And they all had a story. They all came from some very rough backgrounds. I used to sit at those graduations and I would be tearing because I would look at these kids and they had "made it".
My biggest thing is seeing people move forward and to know that I have played a role; that I did something along the way to help them move forward, that is my biggest inspiration. That is what moves me. That is what drives me.


The Real Dads Network is an action-oriented organization whose mission is to get fathers fully involved in the well-being of their children.

We want to Restore the Institution of Black Fatherhood by Educating, Supporting, Promoting and Empowering Black Men so they can provide Guidance and Structure for their families and communities.

In addition, the Real Dads Network serves as a conduit in which information and resources are shared, with the intention of helping men make more informed decisions as they primarily relate to relationships, family, health and finances.

Derek Phillips is the founder and Executive Director of the Real Dads Network. He is married and has two young girls, Jordyn and Maya. An Educator by profession, Derek he has been teaching Math and History in the New York City School System for over thirteen years. Also, he is the President of Jorma Productions, an independent production company, (affectionately named after his two daughters) which is committed to creating projects and programs that are educational, inspiring and empowering. Jorma Productions produced the award-winning documentary "Real Dads- Black Men on Fatherhood."



Visit the Real Dads Network Website: http://www.realdadsnews.com/
Although it is not always easy, if you ask Derek he will tell you that it is worth it the struggle, I am sure.
I am guilty of trying to take on more than I can handle. I want to do so much and trying to create that balance....part of trying to do for everybody else is that you also have to make sure that you maintain your own. I think that there are a lot of us out there doing things and you have to create that balance. I have a wife who needs her time. I have my children who need their time. And then I have the other stuff that needs time so you have to create balance. That is my biggest challenge.
With hard work comes great reward. Derek's greatest reward?
I have a lot to be grateful for; a lot of great moments.
But I would have to say that my children are the greatest. I mean when I look at them and I see what their lives are like, when I hear them...When my daughter was born and I looked at her, I thought
"I can't believe that I am somebody's father!"
When I hear the word 'Daddy" when I hear that from them...for me, my children provide my greatest moments. It is my children.
Being a Dad defines me. It defines who I am and it means the world to me because my father was not there. I know what it is like not to have a father. Everything I do is for my children. That is why I created the organization Real Dads Network. Being a father is the most important thing that you can give a child. Being actively involved and being there for your child, that is a great feeling for me and I can imagine what it is like for children who do not have fathers there. I thought that if we can do a thing where we can get more fathers actively involved...When children have their fathers there, the impact that has, not only on the child but also on society is BIG. We just don't have fathers "there". Fatherhood, for me, is everything.
Why Derek?
The purpose of The Real Dads Network is to say that "I am equipped!" just like all of the other Dad's out there. The Real Dads Network is about being REAL. It is not about being a celebrity, it's not about "I am this great leader" it's about "I have a story to tell because I am a father who is there".
The Real Dads Network is for fathers who are actively involved, fathers who are there to say "We all can lead". When people ask me if I am going to be this great leader who is going to lead The Real Dads Network...
We have some powerful people in this organization. Can I lead them? I am not trying to lead anybody. Leadership starts within. I know that I am a leader but we are all leaders. The problem that I think we have is that we are always looking for someone to lead us. We are always looking for "Martin". We are always looking for "Malcolm", but you know what? If you are a father and you are actively involved in your child's life -- do you know the impact that will have? That is a leader! You are, to that child, that "Malcolm" or that "Martin". You are, just by being there and being actively involved.
When I say "being there" I am not talking about "I pay my child support" or "My check is there". I am talking about being actively involved, having conversations, showing some weakness. I am talking about listening to your child and saying "I am not always right".
The Real Dads Network is not about me being "the leader" it's about me bringing fathers together to share their stories. If someone has a story to tell about what they went through, they can help somebody else out. I am just a conduit for information to pass through.
Though provoked at times, Derek is clear that quitting will never be an option.
We are still young.
This year will be the second year but no quitting. No. This year we are going to have a bigger summit but I want to get away from the summits eventually and really get into doing the work in workshops.
We also have an online newsletter that goes out monthly that talks about issues in terms of finances and health and relationships and planning for your child's future.
We are still young. But this is something that is very needed.
What have been the biggest challenges so far and how does Derek overcome?
The biggest challenge is that everything falls on me. It's not fully developed so, everything falls on me. The biggest thing for me is trying to delegate. When you are starting out it is tough to delegate because you don't know how many people have a commitment to do it. That has been my biggest issue. I am sick of doing everything. I know that is going to change because I have a lot of support.
One of the other big things for me is opening up. I have to deal with my own issues. I am a man and I have been socialized to think a certain way, like MEN. The Real Dads Network is something that I created but I also have to practice what I preach. I have to be able to let go of some things and I have to be able to open up more and I have to able to be more expressive and I have to be able to say "I need help". Those are the things that I am working on. What I use as an inspiration is The Real Dads Network. I use it as a tool to keep me moving forward as well.
One of the most powerful and useful things that a human can do for himself is to view himself as someone who has global importance; as someone who makes a difference in the world. Derek has no problem identifying his global contribution.
I can say that I am a positive role model and I feel as though I have been that role model since I was a teenager. I think that a lot of children don't have that role model. When I am teaching I am very open. I allow students to call me at home and talk about their issues. I have students who have called me to talk about things like -
"What should I do? I don't have money and I am thinking about selling? What should I do? Can you help me?"
My biggest contribution is that I take being a role model very seriously. I try to be available and I know that I have made a difference in this world. I have told my wife and I will say it again:
Principal Blake and some of his students.



Click here to watch Derek Phillips' HBO Movie "A Time to Shine at 109"
"If I were to die today, I know that I will live forever."
I will live forever because I have planted seeds. I may not see all of those trees grow, but I know that I have planted seeds.
Sometimes it gets reinforced because I will get a phone call from one of my students or I will see one of them and they'll say "I still remember the thing that you said". That is important to me. I have learned a lot from my students. I am a teacher but I am also a student and my students have taught me a lot about myself and about myself.
If I could I would wake up with the ability to reach more people. I feel that in terms of the people that I interact with, I have made a difference so that if I had the ability to reach more people, I could make a bigger difference.
As a student, Derek has graduated from the school of hard knocks and as a result is never at a loss for a golden nugget to share...
I always like to tell people that -
You can't live in fear!
Anything that you want in this world you can have but you have to take a step. One step forward and -
It is O.K. to fall!
In life you will fall but those are the times that make you stronger. You've just got to keep getting up. Life is a struggle and if you want something out of it you've just got to keep getting up.
Look at my life. Look at my background. I didn't have a solid family life and we were poor. You can succeed but you have to want it. It is not about racism or all of the other "isms". I know that those "isms" exist. I have a Masters degree in African-American Studies. I know the "isms". But you have to start with "I".
"What am I doing to better myself?" Everything in our society tends to be about reflection and projection but,
you can control your own life.
What I think about constantly is legacy. I don't ever want to "die"; I just want to plant seeds for generations to come. When I leave this place I want to know that I left a better place for someone else:
Derek was here, but he is still here because -
his legacy lives on!
JORMA PRODUCTIONS

4 SCREENINGS!


Tuck That Shirt In

In every school across America, there is a fight for our children's futures. It's the battle between the powerful forces of street culture, consumerism and gang violence and the often unhip, underfunded and undervalued institution of education. It is against this backdrop that Principal Shango Blake of I.S. 109 in Queens, New York used Rap, Hip-Hop and other innovative teaching methods to turn a school at risk into a model of success, as evidenced by improved attendance, decreased violence and increased math and reading scores. Tuck That Shirt In – an exuberant song and music video written, performed and produced by the students, staff, and parents of I.S. 109 – portrays this transformation and issues a call-to-action to schools and communities everywhere. Directed by Diane Paragas and produced by Derek Phillips, Jorma Productions and Wendy Dubit, The Producers' Project, the short features a cameo appearance by NYC Schools Chancellor Joel Klein.

Event: Tribeca Family Festival – The Best in Family Entertainment

Screening Dates/Locations:

Wednesday, April 26, 3:45 p.m.
AMC 68th Street, 1998 Broadway at 68th Street, Theater 5

Sunday, April 30, 11:15 am.
AMC 34th Street, 312 W. 34th Street btwn 8th and 9th, Theater 13

Saturday, May 6, 5:15 p.m.
AMC 34th Street, 312 W. 34th Street btwn 8th and 9th, Theater 13

Sunday, May 7, 10:00 a.m.
AMC Village VII, 66 Third Avenue (at 11th Street). Theater 1

Tickets: Individual tickets are $12 and can be purchased after April 15 at www.tribecafilmfestival.org, by calling 212.321.7400 or 866.941.FEST, or at the box office, 443 Greenwich Street. Discounts and packages are available.

JORMA PRODUCTIONS
12 Hemlock Circle Peekskill, NY 10566
(914) 261 –2471
Email: jormapro1@cs.com