Emily Verellen, Humanitarian
Emily Verellen graduated in May 2002 from American University in Washington, DC with a degree in International Development, Anthropology and Communications. While in DC, Emily was involved in various youth development programs and worked at Human Rights Watch Africa Division and the International Center for Journalists.

Emily was a student of the School for International Training's "Kenya-Culture and Development" semester in the spring of 2001, where she conducted an independent research project with street children in Nairobi. In the summer of 2002, she returned to Kenya to implement and facilitate Phase One of the Binti Pamoja Center.

After a year spent fundraising for their program, Emily and Binti Pamoja co-founder Karen Austrian returned to Kibera to further develop Binti Pamoja. The project is now an integral part of CFK in Kenya, and Karen and Emily returned to the States in late 2004. Emily speaks proficient Swahili.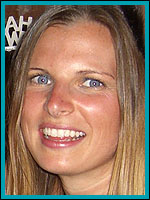 Let There Be Light!
If I were to describe Emily Verellen as an extraordinary young woman, I would be understating her courage, her creativity, her unselfishness and her commitment to being someone who contributes at a global level. I don't know of a word that would accurately describe a young person who is more concerned about improving the quality of life for young girls halfway around the world, then they are about their own comfort.

Emily relates to all that she has done in the same way that most other people would relate to donating their spare change to a worthy cause while checking out at the grocery store.

With a humble and generous spirit, Emily Verellen raises the bar when it comes to exploring the possibilities of caring for our fellow man.
_________________________________________
The Binti Pamoja Center

The Binti Pamoja (Daughter's United in Swahili) Center is a reproductive health and women's rights program for teenage girls in Kibera, and a program of Carolina for Kibera (CFK). CFK serves approximately 10,000 Kibera residents each year through four major programs: a youth soccer association, The Tabitha Medical Clinic, The Taka ni Pato (Trash is Cash) youth waste management program and The Binti Pamoja Center. All CFK programs, including Binti Pamoja, are managed by Kenyans with support from U.S.-based volunteers.

Karen Austrian and I founded The Binti Pamoja Center and incorporated it into Carolina for Kibera in 2002 after studying in Kenya in college and recognizing the need for such a program in Kibera. While studying in Kenya, I focused my work on the needs of Nairobi street children and Karen worked with a reproductive health clinic providing community outreach. Working with Nairobi street children, I realized that, while there was an abundance of youth programs, there was a gap in programming specifically for girls. The youth programs that did exist tended to attract boys, due to a reliance on sports programming, overwhelmingly male leadership, and a lack of sensitivity to the domestic responsibilities of young women in Kenya. From her work in the clinic, Karen saw that reproductive health education and outreach largely targeted married women, and missed young women's unique set of needs. After returning home, the powerful experiences that we both had in Kenya left us with a desire to return to Nairobi to implement an innovative program specifically targeting young women.

Themed photography and reflective writing assignments were the initial activities that Karen and I used to engage the young women of the Binti Pamoja Center. Photography was an important tool for fostering discussion because, while describing their images, the young women were able to talk about otherwise taboo subjects. Today, Binti Pamoja uses drama, writing, peer-led small group discussions and photography to explore the critical issues that 13-18 year old young women face in Kibera. Issues include: HIV/AIDS and other sexually transmitted infections, lack of reproductive health care and information, unintended early pregnancy, violence against women, prostitution, female circumcision, sexual abuse, unequal access to education and stifling domestic responsibilities. In addition, the Center hosts monthly speakers and field trips, a community drama group, a participant-driven newsletter, community service projects, family events, an extensive HIV/AIDS peer education program and other interactive activities.

Caroline Sakwa, a young Kenyan woman, assumed leadership of Binti Pamoja in 2004 and is successfully managing the Center, leading new program developments and mentoring the 60 members. The Binti Pamoja Center has created a safe space for teenage girls to harness their energy, sense of hope and mutual understanding to proactively affect change in their community. And it's working. The young women of The Binti Pamoja Center have become proud leaders in their community in the fight against HIV/AIDS, violence against women and unequal access to education, and they have learned how to take control over their reproductive health. They have become the leaders they were seeking.
What has been the biggest source of inspiration for you in launching this program Emily?
The inspiration for Binti Pamoja, and for LightBox, has always been the girls of Binti Pamoja themselves. Their energy, passion and hope was the reason that Karen and I first developed the idea for Binti Pamoja, the reason it has been so successful and the reason I continue to be committed to its' sustainability.
To say that the girls have inspired me sounds trite. But I know for a fact that I have grown, matured and developed as a woman as a result of knowing the members of Binti Pamoja and knowing what they are capable of achieving as a group and individually.
What is the best thing that you have learned as a result of this project?
There is hope.
I think people would describe me as a hopeful and optimistic person. But, I think that before my work with Binti Pamoja, the one place where I would have had trouble finding hope was in Kibera.
Through the members of Binti Pamoja, I now really see beyond the challenges and obstacles. I see the hope in the young women I have met and know. I have spent a lot of time reading about the developing world, being depressed by the statistics and hearing about and seeing the famine, war, poverty, disease and all things negative. Through Binti Pamoja, I have seen the complete picture. Despite all of those challenges, and because of them, the members of Binti Pamoja have a passionate resilience.
To me, that is hopeful.
What do you hope to ultimately contribute to people through your efforts with LightBox?
LightBox has two parallel goals.
First, I believe that the voices of these young women are relevant and important for everyone around the world. Just as I have found hope in knowing them, I believe people can find that hope in the pages of the book as well.
It is so rare that people actually hear the stories of young women in poverty straight and in the first person. This is an opportunity to do that and hear about their unique needs, challenges and assets.
I think that hearing these voices is the first step toward a more developed, equitable and sustainable world.
Second, we believe that education is one of the keys to the healthy futures of Binti Pamoja members. However, so many of these girls are not able to go to high school due to school fees. Often, when there are multiple children in the family, the girls are kept home so the boys can attend school. Binti Pamoja has set up a scholarship fund for our members to help their parents provide education for these girls. As a result of a grant from The Fledgling Fund which has completely covered the cost of producing LightBox, 100% of funds raised through the book go directly to the scholarship fund.
Every three books sold provides one year-long scholarship for a Binti Pamoja member.
Many would consider you special for the generous work that you do in service to other people.


LightBox is comprised entirely of photographs taken by Binti Pamoja's members and essays they have written to accompany those photos. All of the pictures were taken with disposable or simple point-and-shoot cameras during the period of 2002-2004, when Karen and I were managing the program in Kibera. Most of the photographers had never before held a camera, and we provided less than two hours of basic training. The quality of the photographs in this book is not perfect. However, their expressions offer a candid look at the lives of young women in poverty.

The young women in this book are not an accurate representation of all young women in Kibera. These young women exude a unique confidence and mission-driven attitude that is rare in their community, and is in large part due to their participation in Binti Pamoja. LightBox demonstrates the value of empowering a young woman and is a celebration of the victories these young women achieve every day. Their photography and essays display a powerful message - one of struggle, perseverance and hope.

LightBox is representative of Binti Pamoja's commitment to the futures of our members. Because the production of LightBox was fully funded by a grant from The Fledgling Fund, one hundred per cent of the funds raised from the sales of LightBox support the Binti Pamoja Center Scholarship Fund. This scholarship fund helps active Binti Pamoja members attend high school, which is often out of reach because of school fees. Before receiving the scholarship of approximately US $150 per year, Binti Pamoja's staff meets with the member's family to ensure that they are committed to sending their daughter to school. Families sign a contract stating their support for their daughter's education and agree to provide the few remaining costs of education not covered by the scholarship fund.

Purchasing LightBox is a tangible way to show your support for the ambitions of young women in Kibera. So many of us take our education for granted while girls around the world would give anything to enter a classroom and be told that their future is important.

On behalf of Binti Pamoja members and staff, I thank you for giving them that chance.

The graceful voices of Binti Pamoja are my well of inspiration. I draw upon their intelligence, humor, courage, and determination every day. It is one of my greatest joys to share this book with you. I believe their words have relevance for men and women around the world, of all ages, and from every walk of life. My hope is that, as a result of LightBox, you will keep their voices with you and feel inspired by their lives and what their futures hold.

For more information about LightBox, please visit www.bintipamoja.org
Do you consider yourself to be special?
No. I consider myself infinitely fortunate to have had the opportunity to do something that I care so deeply about and that inspires me. I feel like I have gotten as much out of this program, and LightBox, personally as I have put in to the work. And, in turn, I hope my love and respect for this program is reflected in my work.
Binti Pamoja has been a large collaborative effort. Although Karen and I started the program, it is now run by Kenyans who do an unbelievable job of continuing the mission of the program and providing a safe and supportive environment for Binti Pamoja members. There is a team of dedicated Carolina for Kibera volunteers here in the United States that provides resources, time and support for the program.
Currently, Binti Pamoja is serving 60 young women. The potential for them to be a force for change in Kibera is real and tangible. It's incredible what you can do with a relatively small budget in an area like Kibera. Binti Pamoja and Carolina for Kibera have had such a powerful impact on this area and do it with few resources and a highly motivated staff. I think that is inspiring because often people read about the problems in developing countries and think that it is just too big for them to make a difference. Carolina for Kibera and Binti Pamoja are proof otherwise.
LightBox is also evidence of that impact. The voices in the book are not typical of young women in Kibera. Their sense of future, empowerment and energy is, in large part, due to their participation in Binti Pamoja.
LightBox is evidence of what investing in a program like Binti Pamoja can do for young women.
Through a light box you can see beyond the negative; see the whole picture. LightBox is about the perseverance and the hope despite the obstacles. I won't deny that there are sad stories that will rip your heart out in the book but then on the next page will be a story about what they want to do to change it and what they want for the future. I am hoping that the book is a really nice balance of these two things.
A 132 page coffee table photography book, all of the photographs are of their lives and the essay's that they share explains what their lives are like.
The book launch is on June 27th. After that it is really all about selling it to support the scholarship fund for the girls.
It is self published! There are no fees! I am doing all of the marketing and all of the distribution so that 100% of the profits go toward the scholarship fund!
The book sells for $45.00 and $45.00 exactly will be put into the scholarship fund. For every three books that are sold, a girl will get to go to school for a year.
That is huge!
I am proud of The Binti Pamoja Center and Carolina for Kibera and the positive results that the program has had on the members. The program is now four years old and we have seen our original 12 members make astronomical strides in their confidence and empowerment.
PURCHASE LIGHTBOX

Expressions of Hope From Young Women in the Kibera Slum of Nairobi

Purchasing LightBox is a wonderful way to support the Binti Pamoja Center through the Binti Pamoja Center Scholarship Fund. 100% of your tax-deductible donation to LightBox supports The Binti Pamoja Center Scholarship Fund, which helps Binti Pamoja members attend high school, which is often out of reach.

For more information about this Fund, please visit the Binti Pamoja website.

Click here to make a $45 donation and receive your copy of LightBox.