Gordon Chambers
Gordon Chambers is no stranger to the music industry. In fact, he has been writing songs since the age of 7! The Teaneck, New Jersey native is currently signed to L.A. Reid's prestigious Hitco Music publishing company where has written for over 60 recording artists, including household names Aretha Franklin, Queen Latifah, Brandy, Gladys Knight, Chaka Khan and Marc Anthony. He is best known for his 1994 Grammy- winning hit "I Apologize" for Anita Baker and his 1995 #1 Grammy-nominated smash "If You Love Me" for the trio Brownstone (which was later featured as the theme song of the film "Living Out Loud"). More recently, the eight-time ASCAP winner has written for superstars Yolanda Adams ("Someone Watching Over Me"), Patti Labelle and Ron Isley ("Gotta Go Solo"), as well as penned tunes for superstars Whitney Houston and Bobby Brown ("My Love"), R&B crooner Carl Thomas ("My Valentine"), breakthrough soul singer Angie Stone "No More Rain (In This Cloud)" and pop sensation Beyonce ("After All Is Said And Done"). Over the years, his compositions have been performed at the ESSENCE awards, the American Music Awards and the Goodwill Games--as well as six major motion pictures.

Now in his tenth year in the business, song writing still doesn't feel like a job to the Brooklyn-based still-single Chambers. It is, instead, he says, "a labor of love and a dream come true." As a way of giving back, he performs for charities and frequently speaks to students all over the country. He has received community service awards from the New York youth organizations Boys Harbor and the Bay Shore Schools Arts Education Fund,.

Over the last year, Chambers has been performing up a storm in all over the country, promoting his debut album Introducing Gordon Chambers which features special guests Carl Thomas, Glenn Lewis, Sara Devine, Roy Hargrove and Mike Phillips. "This has been a labor of love," he says. "After working with so many of my idols, the time came for me to work on my own project and express some things that only I could say."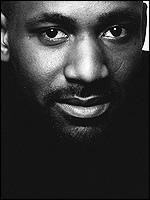 Beyond Successful
by Gordon Chambers as told to Dana Roc
It always surprises me that Gordon Chambers is not quite fully aware of his musical genius. It is refreshing however. Gordon remains humble, even as someone who has been writing music since he was a child and has written for such legends as Aretha Franklin, Patti Labelle and Whitney Houston. Gordon is determined to re define what success means for him, as he strives to carve out yet another place for himself in an industry where he has already known success.
_________________________________________
"I love music!"
That truly is what defines Gordon Chambers and his life.
"I love music because it heals and it makes people feel good and soothes their souls. Music is about emotion and that's why I love to do what I do."
What does he want people to know most about who he is?
"I have accomplished things in life but I am still a human being. I am loyal to my friends and family. I want people to know that I care about people. I feel things deeply."
For Gordon, as an artist, feeling things deeply is an important part of how he creates. Joy and pain dance together throughout the music that he creates.
"I love to eat. I love children. My joy is the simple things. For instance, I am a hopeless romantic. I love to be in love and I am pained when I am not in love. I love to get my way but in love you can't control. You have to just let them be."
Pain? I have pain. Sometimes I get lonely. I have friends who died very early and very young. I was close to Phyllis Hyman. She committed suicide and I have pain that we can no longer spend time together."

"Introducing Gordon Chambers"



Gordon's album is available at a store near you.

The album is available at the following retail outlets: Manhattan (Tower, Bondy's, Music Emporium, Discorama, The Studio Museum of Harlem); Brooklyn (Music Emporium); Philadelphia (Sound of Market St., Armands, Tower); Washington D.C. (Kemp Mill, Sam K's, Mad T's, CD Wherehouse, Pulp on the Hill, Karibu Books, Tower); Baltimore (Dimensions in Music); Detroit (Jazz N Jams, Street Corner Music, Pearls, Shantinique, Puffer Red, Memories and Melodies); Charlotte (Groove Merchant, J&B Music Connection); Newark NJ (Scratch Music); Teaneck, NJ (New Visions); Atlanta (Ear Wax, Vibes Music, Moods Music); New Orleans (Tower, Peaches); Nashville (Tower); Los Angeles (Tower); Chicago (Dusty Groove, Dr. Wax, Music Experience); Springfield, MA (Reflections Emporium); Virginia (Plan 9, All That Music)

Or, to buy the album online, click here.

To learn more, visit GordonChambers.com
That's real and being real for Gordon also means that people are entertained by his music and have a good time.
"When you are 'hosting a party' you are being the entertainer; you are entertaining your guests. Then there is another part of me - when I am really sharing. It is to myself and for myself like when the guests are gone and you are cleaning up the kitchen and you are by yourself. I think that good showmanship has elements of both of those parts of your personality - both entertaining and sharing."
And just who does Gordon consider to be great?
"Stevie Wonder, Oprah Winfrey, Martin Luther King are among some of my heroes."
Why?
"I think that people who have a singular vision are heroic. When people dare to march to the beat of their own drum and they create an audience around what they are doing who they are and they don't waiver to accommodate. They do what they do because they just believe in it and their audiences find them for who they are."
I am trying to be that kind of person."
Gordon shares that he considers himself a student in life but in a lot of ways he is the teacher too.
"There are those who are following in my footsteps and I have a responsibility to be strong and powerful."
As talented and accomplished as Gordon is, he remains very humble, still looking ahead and continuing to raise the bar.
"People have compared me to people like Babyface - and people who are heroes of mine and I am still amazed that people would even put my name in the same sentence because there is so much more I want to do. I feel that I am just starting out."
"I am a supporter of dreams.
I think that I make people feel good. No matter where I go, I think I make people feel good about themselves. I leave people laughing and feeling joyful."
Life is full of pressure and feelings of having to measure up. That is not different for people who have succeeded and are still striving for success. So it is important to keep your perspective clear.
"In the music business you are viewed as your potency as a hit maker. There is always the pressure to make a hit. But there is also pressure on you creatively to make something that pleases yourself.
I put pressure on myself. I get frustrated with things that I want to happen with my career. I can be very impatient."
But if you ask him to sum it ALL up in a nutshell, Gordon Chambers will tell you:
I love music! I love my job!