Gwen Laster
Let the Music Play
Gwen Laster as told to Dana Roc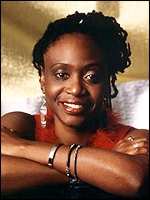 Gwen Laster is a violin player and she is gifted. She handles the violin as if she were born to play.
I am a violinist and the art of improvisation on violin gives me the opportunity and challenge of spontaneously transferring my musical thoughts through the facility of my instrument. My classical approach is to execute and interpret what has already been composed.
She is good but what makes Gwen Laster great is her commitment to pass her gifts on to the next generation. In her spare time, Gwen teaches violin to young children in the hopes that they will one day make a musical difference.
I have a deep deep sense of gratitude for the education of the arts and particularly string players. As a result I present master classes, workshops and clinics on "Diversifying the Classically Trained String Player" to various schools, colleges and universities. I also teach privately at my home studio and at St.Ann's School in Brooklyn Heights. My workshops and private teaching strategies are implemented with "Jazz and Pop Arrangements for String Ensembles" by Gwen Laster. These arrangements were inspired through my work as former Director of Jazz Strings at the Harlem School of the Arts.
As a band leader and recording artist, Gwen has released two recordings; her debut project "Sneak Preview" and most recently "I Hear You Smiling". Both projects featured her on violin and vocals and all of the songs and arrangements are original.
My music is an eclectic blend of my classically trained technique with inflections of jazz stylings. The sultry melodies and rhythmic grooves create my musical concept in the Contemporary Jazz Genre.




New CD Release.
Street date: June 20, 2006

"My classical training combined with an upbringing in the Urban Music genre create a seamless approach for expressing my thoughts when improvising or reading and executing"
-- Gwen Laster

My music is an eclectic blend of my classical training with inflections of jazz stylings. The sultry melodies, rhythmic grooves and global beats create my concept of World Jazz.

Inspired by: Individuals from any walk of life who step outside their comfort zone and present what they are through their art form.

What my music means to me: A way of expressing what I believe and who I am at the moment. That's why it's important to have several projects that represent all angles of how I'm living.


My Upcoming Events. ----------------------------------------------------



Ongoing...
I'm recording new music.
Scheduled to be released in June 2006.
HOORAY!! I love these songs and can't wait for you to hear them.

Emmanuel Baptist Church.
I'm leading a string quintet that accompanies the Total Praise choir. Always an uplifting and moving experience.
Led by Pastor Frank Haye and accompanied by the Total Praise Band. Awesome voices and funky contemporary gospel arrangements.

Friday, February 24, 2006 7pm. and 9pm. FREE
Emmanuel Baptist Church
Lafayette Ave. / St. James Place. Brooklyn

Howland Cultural Center.
A Celebration of Women of Color in the Arts.

This event is inspired by Councilwoman Eleanor Thompson; the first African American woman elected as council member at large in Dutchess County. It will include music, visual and theatrical persentations by women of color. I will be performing a string duo of music composed by pianist Tom McCoy and surprise performances with other artists.

Sunday, February 26, 2006. 4-7pm. FREE
Howland Cultural Center
Main St. Beacon, New York

Common Threads:
Workshop and Gala Celebration.

I'm leading weekly classes teaching Irish Fiddle Tunes as an adjunct Artist in Residence for the Common Threads Workshop.

Friday, March 31, 2006 Concert
7pm. Haldane School FREE
Cold Spring, New York

Ongoing...
I'm leading weekly classes of private and group instruction
at Poughkeepsie Day School.
Teaching Traditional and Improvisation using World Jazz Repertoire.

Ongoing...
I'm leading weekly classes of private instruction at
St. Ann's School in Brooklyn Heights.
Teaching Suzuki Repertoire, Orchestral and Improvisation.


Click here to learn more about Gwen Laster and her music.
Gwen has worked with many accomplished recording artists. She makes it a point to study them not only for their musical talent but for whatever it could be that separates them from everybody else –
As an accompanist for recording artists, I have recorded with multi platinum artist Alicia Keys on "Diary of Alicia Keys" and "Fallin," Shaggy on "Hot Shot" and "Lucky Days," Angie Stone, Jay Z and others.
Just recently I've been especially grateful in having the experience once again to record and perform with Alicia Keys. While many know her to be a wonderfully talented performer, singer and songwriter; I also see her urgency in keeping her music innovative and exciting.
As we rehearsed for the taping of the MTV "Unplugged", her music director shared with me that they have performed at least 20 different arrangements of each of their songs. Not to mention that this taping comes at the end of a very long tour. When I think of how challenging it is to be "up" for playing the same songs night after night and how easy it could be to become "complacent", I just thank my lucky stars that I was asked to perform in the presence of an artist who has set her own standards way beyond even her highest dreams.
Her passion for what she does, allowed me to further appreciate who I am as a talented musician.
Gwen's live performances span a wide array of musical genres from Broadway shows Miss Saigon, Carousel, Beauty and the Beast to television appearances with R&B, Soul and Jazz artists Brian McKnight, Aretha Franklin, Erykah Badu, D'Angelo, Deborah Cox, Jon Faddis' Carnegie Hall Jazz Band to the New York City club scene. She has also toured within the United States, Canada, Japan and the Caribbean.
Being no stranger to the Classical music culture and having earned both Bachelor and Master's degrees from the University of Michigan School of Music, her chamber music and orchestral experience include the Brooklyn Philharmonic, the Staten Island Symphony, the West End Symphony, the Harlem Festival Orchestra, the Lake George Opera Festival and is a member of the Sphinx Symphony WWW.SPHINXMUSIC.ORG and the Amici String Quartet.
Gwen Laster is an inspiring talent. She is a master when it comes to playing the violin but she is a hero when it comes to passing on her gift and leaving something beautiful behind for the next generation.
It is my hope that ultimately, all of our artistic energies can attract situations that propel us beyond our highest dreams and create a cycle of unending possibilities.
"There is a lot of beauty in this world and we are responsible for protecting it because if we don't take responsibility, it won't be there."