Rob Holzer and Jakob Daschek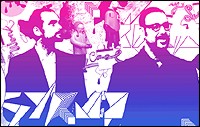 (n) Syr-up: A concentrated solution of ideas, often used as a vehicle for healthy visceral branding.

We are brothers-in-laws and roommates, neighbors and friends, locals and immigrants, athletes and nerds. Our business is not run like an office. Syrup is a live/work loft. Well, no one actually lives here, but our lives happen here, and all of us have spent the night here. We have Syrup Sunday brunches in the office. We have jam sessions in between brainstorming, soccer games before coming to work, and the best espresso machine money can buy. We have an open door policy. Actually, we don't have any doors. Friends hang out, clients stop by, wives drop off kids, and kids make us drop everything. We are the essence of live/work.

Things we like: S.A.M. New York, Josef Muller Brockmann, Achewood, Shift, Newstoday, Tara Donovan, Clavia Nord, Pepe Rosso, Google Earth, Peter Beard, Sustainable Energy Initatives, Cindy Sherman, St. Barth, Dinosaurs, Miles Davis, Elisabeth Arkhipoff, Track Bikes, NewsMap, Plot Architects, Sverige!, Morr Music, Pitchfork Media, DestroyRockCity, Wulff Morgetnthaler, Prate™, The Daily Candy, Pylos Restaurant, Mud Truck, Downtown Yarns, The O.C., Zlatan Ibrahimovich, Swedish Salt Liquorice, BBC, Arsenal!, Video Games, Free Williamsburg, BBC Football, Aftonbladet, Rocky Digital, Liverpool!, Sze Tsung Leong, Spidron, CG Society, The Morning News...
They are business partners, friends and brothers-in-law. They are the founders of Syrup, an integrated, brand design advertising agency.

I remember when Rob and Jakob started Syrup. I remember their enthusiasm and their creative vision. I remember admiring the way that they seemed to always have fun.

I visited Rob and Jakob at Syrup recently "at the office" and they are still having fun. What impresses is the way that they have integrated their work into their entire lives. They have combined work with living and living with work - magically, providing an attractive model for the way work can -

work.
The Syrup-y Sweet Life
We are an integrated, brand design agency.
We execute brand-centric concepts for our clients which are varied across varied media. We focus on interactive development, web development and on taking a concept further - web, print, environmental design, film and a lot of various types of media -- for our various clients.
We have been doing this for eight years.
We have twenty people in our New York office and we also have a small group in Europe.
Our client base includes companies like GE, Viacom and Hearst to smaller fashion companies and some luxury brands.
DR: How did you guys get started?
Rob: It was kind of like a side project at first; something that we didn't take too seriously. I was in the Internet business, back in the day, working for the New York Times.
Jakob: I was working at Deisel as an art director...
Rob: Jakob was dating Barbara, we were friends and...
"Let's start a company".
So we did.
We got some clients early on that turned it into something serious.
It took off for us early on. After about six months we were able to leave our jobs and do this full time. We got a good head start and from there we have just been slugging away.
DR: What do you like best about the work that you do?

Jakob: The freedom of running our own company and dictating our path. I like the kind of work that we get to do. We have our fate in our own hands. We can navigate what kind of business we accept and the kind of work we will do.
DR: What do you find most challenging?
Rob: As Syrup develops and it grows, we can sometimes seem very isolated. It's tough. We don't have the reliance of bigger systems or organizations as we continue to grow. We have questioned ourselves and various parts of our business but, as the company grows our confidence grows.
Also managing and inspiring the people that work with us so that we develop and sustain a great culture is challenging and important. I think that is the biggest driver to the success of any organization -
The ability to keep people passionate about where they work.
DR: How do you do that? How do YOU do that?
Rob: Even people that work here that are not designers, like account people or programmers, still feel as though they are tasked with something very creative. We are a boutique agency so people can get their hands into a lot of things as opposed to working at a bigger agency where you can get caught up in working on one particular thing for years and years and years and maybe you are just one piece of a very big puzzle. Working for a small company like ours offers the opportunity to get into a lot more, which gives a lot more satisfaction.
And,
we are not fussy about things like the hours that people keep. Everyone works really hard here. It is a great place to work. That gives us the "leg up" on the bigger corporate structure where people might otherwise feel pretty disconnected.
DR: What would you say to someone who was struggling with whether or not to take the leap into starting their own business?
Jakob: Don't do it! Be aware! It is a dangerous and dark path.... (Laughing...)
Rob: You need more than just being good at what you do.
That is what I would say is the biggest thing.
You need to know that you will have to learn how to run a business. Someone might be great at something and they want to start a business around the thing that they are great at like baking cookies. But then you will discover that you are not just making cookies, you are in fact running a business. You might not be "paying dues to the man" anymore but you can become a slave to the business. Your life changes a lot. You have to be very dedicated to start a business.
Jakob: But there is also the freedom. That pay-off is great....
When it is great it is amazing but when times are rough it is really rough.
If you are working for someone else you can just run off to the next gig when it gets tough. When you are running your own business and you are very passionate about it, it is your life. For example:
How many hours did I spend on a particular client this week? Does it count when I dream about them or when I wake up in the middle of the night to takes notes or when I wake up worrying about it?
DR: So, when it's great it's really great and when it's rough it's really rough. What was one of your "great" moments and what was one of your "rough" moments?
Jakob: Getting the big client that propelled us into a new dimension and then losing that client and having to kind of re-think and re-structure our whole business. That is what led us to where we are today...
DR: So that was both good and bad?
Jakob: At the time it was very scary but it forced us to step away and take a look at our business model and to re-think how we were doing things and that opened up other doors. You know, sometimes one door has to close in order for another one to open.
Rob: In any business there is that high of winning a new big piece of business but the thing about the struggles and the times that things are not going the way that you think they should, is that ultimately you are the one that is responsible for everything. That responsibly often gets to people. It can be difficult to deal with. But, in order to be successful you have to be able to be an eternal optimist and continue to be optimistic even in the face of some really difficult things.
Syrup Kicks off the 2007 XFIT Lycra® Integrated Campaign

We are happy to introduce the new 2007 Integrated campaign for XFIT Lycra® premium denim. Lycra is kicking off the new global consumer advertising campaign at this month's New York Fashion Week in their "Lycra Denim Lounge." Syrup created, designed and produced the campaign, the brand strategy, the lounge, the website, the collateral - all of it ...how perfectly integrated! The XFIT Lycra campaign launches for Europe at the "Milano Moda Donna" show in Milan Italy next week and for Hollywood at the Independent Spirit Awards in LA at the end of this month. Pick up the March issue of Elle to see the campaign imagery or visit www.xfitlycra.com.

To learn more about Syrup, Rob Holzer, Jakob Daschek, and their work - click here..
DR: A lot of people give up when times get tough. Why didn't you?
Jakob: It's very personal. It is never been one of those things that I can imagine walking away from. You put in so much time and so many hours...I knew early on that we were on to something and that it was just a matter of time; just a matter of sticking it out.
Rob: There is that is that optimism. It's just slugging it out...
I think it's just a decision to persevere, but sometimes it is a matter of luck.
Jakob: Sometimes people don't have a choice. If they can't pay the bills and put food on the table - well, once you get to that point it's an easy decision to make to stop.
Rob: I think it's important to know when to call it quits. Fortunately, for us, we haven't been too far into a bad situation before we came out of the valley but, I have known people that have and it is difficult.
In business you have to be smart. If there is no upside anymore, it's smart to stop. It's not always a bad move to close a business.
For us, we knew we were onto something. There was something that we had been talking about and doing and working toward, that the world was moving toward. We completely believed that, one hundred percent, even though the circumstances were not reflecting that. Now the world has integrated advertising, and new media and digital marketing has become the biggest thing in the advertising industry, so much so that the more traditional advertising agencies are running scared and they don't know what to do because tremendous budgets are shifting to new media and emerging media.
We are uniquely positioned right there in the middle but we knew that four years ago when we were having our rough times even though the world was not reflecting what we were feeling. It was just our belief and our commitment to keep fighting the fight.
"It's always darkest before the dawn..."
That's true.
DR: Where do you look for inspiration?
Jakob: Everywhere.
Being a designer and being creative - everywhere.
New York is a great city for people who create. I walk down the street on my way to work and I am hit with impressions that I would never be able to get anywhere else in the world. It might be synchronized tai chi Chinese women against the Brooklyn Bridge at sunrise or some weird scribble on a wall that inspires me. Inspiration is everywhere. Traveling, family, my son...
Rob: We have such an international crew, too and people are bringing perspectives from all over the world. Also, we are fortunate that we get to travel a lot. Last year we did this project for GE where we were actually going around the world filming various places. Doing that kind of work is inspiring. The good clients are inspiring. We are working with some companies that are doing some really inspirational things and with people who are brilliant marketers and thinkers. When it is good, what the relationship is like is that, we are working together as a team. There are no sides of the table. When it is right we are all working together doing stuff that is changing the world.
We are really fortunate to work with GE on their eco-magination campaign. They are building a bunch of products that are better for the world and sustainable. We get to be a part of that. That's inspiring...
DR: What are you looking forward to?
Jakob: Retirement...
(Laughter...)
No....Everyday brings something different and that is the great thing about what we do.
Tomorrow we have a huge pitch and we are all trying to figure out what to do for the Olympics in Beijing. Next week I am going to do a film in Florida. Rob is taking off for Milan and then we are going to meet in Amsterdam.
Right now, life is good for us.
Rob: I look forward to more of that...
As you build a business from the start, you have to pay the bills and so you might compromise some of your original thinking. Hopefully as you get more successful you can dictate more of what you want to do. That is where we are right now. We turn down more business than we take.
DR: What do you want people to know about you?
Rob: What I hope to do here, and this is pretty cheesy stuff...
I am proud of what we have done with our company. I am proud of what my wife Monica and I have done with our life together. I am proud of what Jakob and I have done. I am proud of what the people around us are doing as well. Positive energy inspires more positive energy. When we have a big win and we are all celebrating, it feels very good to know that a lot of the people around us feel inspired to do more with their own lives. A little bit of that, when you are fighting the good fight, if other people are getting some inspiration from it - that's nice.
Jakob: That sounds good to me...
DR: What legacy do you want to leave behind?
Rob: I don't need a legacy. I just want my family and my friends to reflect that "This guy lived his life on his own terms".
Jakob: Syrup as a company, that's different. There I have certain expectations about how people perceive us.
Rob: Syrup is known as a company that is leading from a creative point of view and also from a strategic point of view regarding where marketing and advertising is going. That is absolutely the place that I want us to live squarely in. The recognition is now coming quicker but ultimately, if we can translate that and create an organization that is this but multiplied to a bigger level. We want to affect a big change in the direction that advertising and marketing is going.
Jakob: Syrup as a company, we do have a certain reputation out there now that is very solid. People are always surprised at the diversity of work that we do. The fact that we can do a website for one company, and then turn around and be shooting a fashion campaign and placing ads in Vogue, that is something that I am very proud of.
DR: So you will be known as the people who helped to usher in a new era...
Rob: We have already seen other companies emulating us. That's good! As long as they don't get to big and try to compete with us....
The Heart of Our Lives

Rob Holzer returns to the NY stage with a new album and a smokin' set of roots rock that is funky, urgent, original music. "The Heart of Our Lives" was recorded in 2006 with an all-star lineup of musicians including drummer Nir Z (John Mayer, Chris Cornell, Alana Davis, Genesis), bassist Justin Wallace (The English Department), guitarist John Caban (Richard Bona, Art Neville, Organic, Alana Davis), with special appearances by Grammy award-winning artist John Cruz and guitar hero Scott Metzger (Rana, Gov't Mule, Particle) . Produced by - Jon Kaplan (Lola Ray, The Damwells, The English Department, Gavin DeGraw), the new album will be released in November 2006 and tells the story of love, life, and loss on Rob's long road from Hawaii "back to the real world."

"I feel blessed to have experienced so much music in my life with such a diverse group of people that have taught me so much. I hope this never changes."

This statement sums up the music and winding musical career of Rob Holzer which has led him to the 2006 release of "The Heart of our Lives", Rob's second solo album.

Rob is a singer/songwriter born and bred in New York. Rob plays piano and guitar…He has fronted and played in numerous bands over the course of his professional career. His original music has been featured in a number of films and commercial projects.

Click here to learn more and purchase Rob Holzer's new album.